ISLAMABAD, Pakistan / BEIJING - Terrorism should not be linked to a certain religion or people, and the international community should fully support and respect Pakistan's chosen road of development, Premier Wen Jiabao said on Sunday.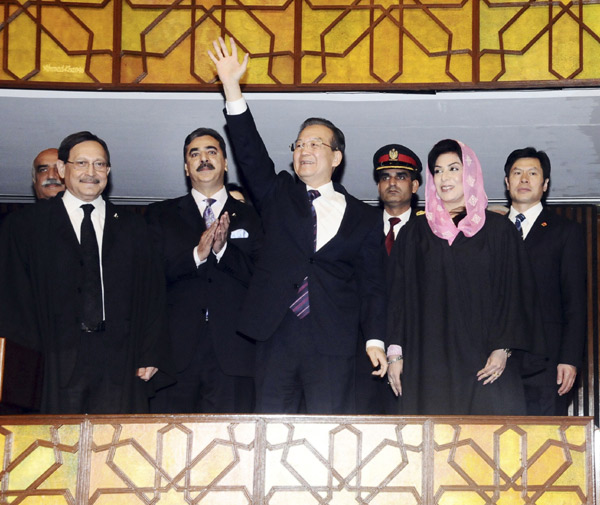 Premier Wen Jiabao waves as his Pakistani counterpart Yousuf Raza Gilani applauds at a joint session of Pakistan's parliament in Islamabad on Sunday. [Photo/Agencies]
Pakistan has made "huge sacrifices and great contributions" in combating terrorism on the frontline, and its efforts are recognized by the world, Wen said during an address to a joint session of Pakistan's parliament in Islamabad. During his address, Wen said: "And the thing that I want to say most, is that China and Pakistan are forever brothers."
Just before Wen spoke, a loud voice rang out from the audience: "Long live Pakistan-China friendship." Smiling, the premier commenced his speech by extending greetings in Urdu.
Wen's half-hour speech was interrupted more than 30 times by applause. He thanked Islamabad for its help following the 8.0-magnitude Wenchuan earthquake that hit Sichuan province in 2008.
"Pakistan gave us all its reserved tents and provided emergency assistance right after the quake happened," Wen said, stressing that China will always firmly support its neighbor's development.
Noting Pakistan's efforts in combating terrorism, Wen said the focus should be on eradicating the "root factors breeding terrorism".
"Double standards should not be employed," he said.
Wen was the first Chinese leader and the sixth foreign dignitary to address a joint session of Pakistan's parliament.
"Terrorist activities in Pakistan are very complex and we have to view Islamabad's pressure objectively," said Ye Hailin, an expert on Asian studies at the Chinese Academy of Social Sciences. Ye said there are some misperceptions on the country's anti-terror strategy.
"It would be wrong for others to shun responsibility and blame Pakistan for not doing enough. Nevertheless, China appreciates the work done by its neighbor and would like to help it enhance its capability," Ye added.
A number of countries have criticized Pakistan for not doing enough to combat terror.
Suicide attacks and bombings have killed 4,000 people across Pakistan since 2007, according to AFP.
Pakistan needs foreign investment to rebuild its infrastructure, which has been severely damaged by both natural disasters and terrorist attacks, Ye said.
Michele Flournoy, US undersecretary of defense for policy, said Washington must prove its commitment to Pakistan with civilian as well as military support, according to the Associated Press of Pakistan.
Wen met on Saturday with top Pakistan military officials and exchanged views with them on defense cooperation and other matters.
China is actively involved in all sectors of reconstruction work in the country and would like to deepen cooperation in the fields of energy, agriculture and infrastructure, as well as enhance communication between the young generation of the two countries, Wen said.
Agreements and trade deals formalized by business leaders and cabinet ministers during Wen's three-day visit to the country amounted to around $35 billion, according to AFP.