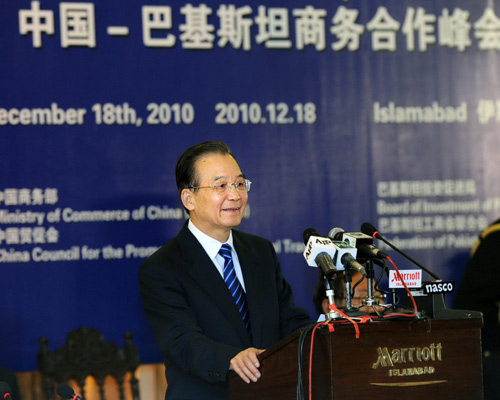 Chinese Premier Wen Jiabao speaks during the China-Pakistan business summit in Islamabad, the capital of Pakistan, Dec 18, 2010. [Photo/Xinhua]
ISLAMABAD, Pakistan - After the two governments signed major cooperation documents on Friday, Chinese companies inked additional deals worth more than $10 billion with Pakistan on Saturday, giving the disaster-plagued country a financial shot-in-the-arm.
Premier Wen Jiabao, on the second day of his first visit here in five years, and his Pakistani counterpart Yousuf Raza Gilani both spoke at the signing ceremony of the China-Pakistan business summit, which included industry and business leaders of a 300-member delegation from China.
Related readings:


 China aids post-flood reconstruction in Pakistan


 Leaders open China-Pakistan friendship center


 China pledges $250m flood aid to Pakistan


 China, Pakistan PMs hold talks to cement ties
Upon Wen's arrival on Friday, he and Gilani officiated at the signing ceremony of inter-government documents that dealt with a wide range of issues including security and energy.
Among them: A previously promised donation of more than $200 million to help with reconstruction from the devastating floods Pakistan suffered in the summer, as well as a $400 million soft loan for Pakistan.
After prolonged talks with Gilani late on Friday, Wen announced that China will take helping Pakistan's reconstruction as a "pressing mission" and pledged further assistance in various areas including road repair and food production. He also said China is ready to establish an annual conference mechanism between leaders of the two countries and regular dialogue between their foreign ministers.
Further, Wen proposed setting up a bilateral energy cooperation mechanism and suggested designating 2011, the 60th anniversary of the establishment of diplomatic relations, as the Year of China-Pakistan Friendship.
In 1951, Pakistan became the first Muslim country to initiate diplomatic ties with the new China. The two neighbors have been strong supporters of each other ever since.
"China is our best and most-trusted friend," Gilani told Wen on Friday at the start of their talks.
Wen told Gilani that "China appreciates the strong support Pakistan has long been offering on issues concerning China's core interests", and will continue backing Pakistan's efforts in safeguarding national sovereignty and maintaining social stability, said a Foreign Ministry press release.
According to the document, the Chinese premier also noted the huge sacrifice Pakistan made in the counterterrorism campaign and said his country is ready to join hands with Pakistan to keep stability in the region.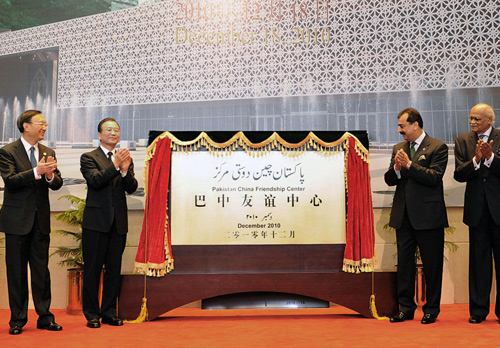 Chinese Premier Wen Jiabao (2nd L) and his Pakistani counterpart Yousuf Raza Gilani (2nd R) attend the inauguration ceremony for Pakistan-China Friendship Center in Islamabad, the capital of Pakistan, Dec 18, 2010. [Photo/Xinhua]
Wen arrived in Pakistan on Friday after concluding his trip to India.
Earlier on Saturday he and Gilani joined hundreds of other prominent officials in a ceremony to inaugurate the Pakistan-China Friendship Center - a landmark white building featuring a latticework facade that China built for Pakistan at a cost of 240 million yuan ($36 million).
The two leaders then inaugurated a project to send China's best oculists to help 1,000 cataract patients in Pakistan for free in two years. The doctors have already cured more than 1,000 such patients in Asian and African developing countries with a 100-percent success rate.
On the last day of his two-stop South Asia visit, he will address the Pakistani parliament on Beijing's foreign policies relating to Pakistan.