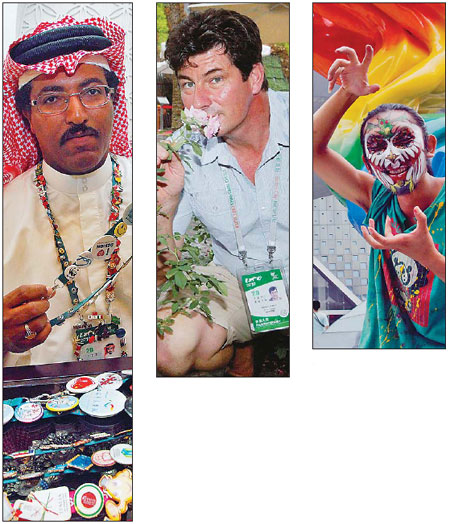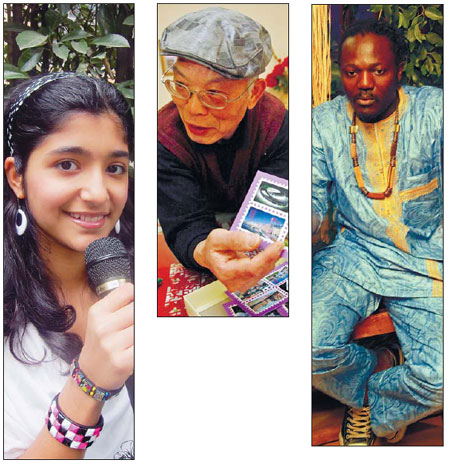 Medeth Alqahtani
Medeth Alqahtani will expand his collection of national pins over the next five years as the 49-year-old Qatar Pavilion official plans to participate in the next two Expos: Yeosu 2012 and Milan 2015. Alqahtani has already become famous within the Expo Garden for his collection of 500 World Expo pins. "I will give the pins I collected from around the world to my children, and I hope they can have the same hobby as me," he said.
The Expo has given him a chance to make new friends and understand different cultures, he said.
"I've learned about different customs and traditions that I never knew before. It has stretched my horizons, and I'll treasure the experience throughout my life."
Benoit Hochart
Rose breeder Benoit Hochart plans to stay in China after the Expo to continue cultivating the roses he brought to the country. He has started to negotiate some corporate programs with parks and gardening institutes in the city, such as Fuxing Park, in order to facilitate bringing more French roses to China.
"Producing roses is a long-term affair, because we are starting from the beginning. We need to do a lot of preparation and experiments during the breeding stage, so I need to stay five years or more in Shanghai in order to organize the production," he said.
He said the Expo has enabled him to discuss his future development plans with new contacts, and that he now plans to bring more flowers to the Chinese market.
"It will be interesting to see flowers from Europe bloom in China," said Hochart.
He returned to France in October but will be back early next year to continue his business operations.
Liu Xiaodong
Body painter Liu Xiaodong has become something of a celebrity during the Expo due to the extensive media coverage of Le Zi, the unofficial mascot that Liu created with two other artists to support their performances in the Expo Garden.
Liu has for months been painting Expo visitors to keep them entertained as they brave the long queues outside pavilions, a trend he said peaked on Oct 16, when over 1 million tourists entered the Expo Garden.
"Two of us painted over 70 visitors within 20 minutes," Liu said, "It's a tough job sometimes, but we love it."
His team was chosen by the organizers of the City Square Arts Festival to join a competition aimed at finding the best performance at Expo 2010.
"We were the only team selected from the festival, so we're pretty proud of ourselves," Liu said.
Liu said that festival director Lee Li-heng told them he would like to have Liu and another two artists join his team if there are any more opportunities after the Expo.
Tara T in Shanghai
Twelve-year-old Tara T has been popping up on Internet clips lately explaining Shanghai landmarks such as the Bund, and exploring various pavilions at the Expo, as part of her online show called "Tara T in Shanghai".
Tara was born in Hong Kong but later took Canadian citizenship. She moved to Shanghai six years ago, and decided to begin video-blogging the city and its achievements with the help of her friends and family after researching Shanghai's storied history and becoming fascinated with it.
She has recorded clips about the city's Entertainment Street, its wet market, Xintiandi and much more. She is planning more clips on the local culture, people and food. Her clips on the World Expo and Shanghai can be seen on www.tudou.com or www.youtube.com.
Cheng Shuchu
Cheng Shuchu has been receiving guests since January in his capacity as head of the household at Expo Homestay No 1. The retired high school teacher has received over 500 guests from all over the world, mostly from Japan, Singapore, Australia, Saudi Arabia, the United States, Spain and France. These groups of tourists, made up of 50 people each, all came with different purposes.
Cheng received one group of 30 students who were majoring in social science from the University of Melbourne. They came to Shanghai to conduct a survey on environmental protection in China. Although their questions were quite professional, often concerning the low-carbon measures taken in residents' homes, or the relationship between economic development and people's living standards, Cheng managed to answer them by keeping a close eye on social issues.
During the Expo, Cheng received over 160 media interviews. "My life will gradually return to normal, but we Expo homestay families, as a team, will always be ready to receive guests from all over the world," he said.
Lulu
Adogony Baudouin Euloge, widely recognized by his Chinese name Lulu, has successfully transformed himself from a performer inside the Joint Africa Pavilion to a businessman in China. He started to operate a restaurant inside the Expo Garden with one of his friends and he plans to open branches in Shanghai and Beijing after the Expo.
"I didn't come here to do business in the beginning, but I've realized the Expo is a big stage offering me many opportunities to meet people," said Euloge. "I think it is a great market, and I would not like to lose this opportunity."
Apart from his food business, he hopes to continue his performing career on Chinese TV, as he has done in Japan in recent years.
"It would be funny to stay in Japan for two weeks and China for two weeks to entertain audiences from both countries."
(China Daily 10/29/2010 page)