Expo 2010 Shanghai gathers the globe with spellbinding start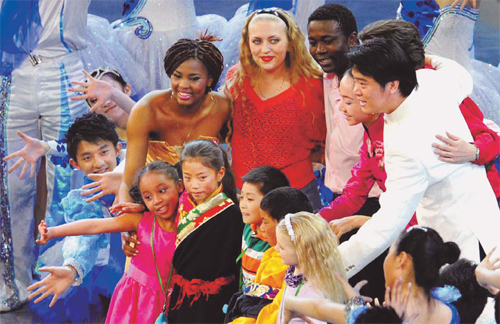 Performers at the opening ceremony of the World Expo in Shanghai on Friday. The girl in black is from quake-hit Yushu in Qinghai province. [Chen Shugen / Xinhua] 
SHANGHAI - Expo 2010 Shanghai raised its curtains for the world on Friday with a dazzling display of sight and sound. President Hu Jintao declared the opening of an extravaganza with performances and fireworks that highlighted China's growing confidence from rising economic clout and its increasing openness in the international community. The opening marked the first time for a developing country to hold the World Expo in its 159 years of history. The Expo will usher in new ways of life and help promote harmony among mankind, cities and nature, Vice-Premier
Wang Qishan said at the opening ceremony held in the futuristic, UFO-shaped Expo Cultural Center.
Bureau of International Exhibitions (BIE) President Jean-Pierre Lafon said he hopes the Expo will contribute to a social awakening, so that cities may become more sustainable, fairer, safer and more harmonious.
The country's financial capital, playing host to China's biggest international event after the Beijing 2008 Olympic Games, was bathed in celebration. Neon lights illuminated the 3.5-km stretch of Shanghai's riverfront at The Bund.
The star-studded indoor festivities included action star Jackie Chan, Japanese singer Shinji Tanimura, concert pianist Lang Lang and opera star Andrea Bocelli, among 2,300 performers.
The evening also featured the largest outdoor multimedia laser display over the city's Huangpu River.
A water fantasia featured a 250-meter-wide dancing fountain with jets as high as 80 meters.
The river waters glowed with 6,000 red and yellow, 0.5-meter-large LED balls and lights, as an aquatic parade of 200 flag boats sailed along the river, representing nations and regions participating in the Expo.
"This is the first time a World Expo is hosting an opening ceremony of this scale," said David Atkins, CEO of David Atkins Enterprises, artistic director for the event.
The Expo, which aims to showcase the latest technology and inventions, attracted a record of 189 countries and 57 international organizations, including 22 nations without diplomatic relations with China.
Almost all African countries, which rarely showed up at previous expos, are gathering in Shanghai.
The Expo's theme of "Better City, Better Life" was displayed all over a rapidly expanding Shanghai.
"We should not see the Expo as just a huge exhibition. It is also a process of exchanging ideas and integration," said Professor Cai Jianguo, dean of the International Cultural Exchange College of Shanghai-based Tongji University.
The event is a way to inspire ideas that light the way to a better future, he said.
To keep up with green concepts of the times, the main Expo site, which spans 5.3 sq km across both sides of the Huangpu, has been designed to be environmentally friendly. Most of the materials used to construct the innovative national or regional pavilions will be recycled.
Similarly, the site boasts a 4.7-megawatt solar power system, China's largest, with panels installed on Expo buildings. Zero-emission vehicles are also used to patrol the ground.
Green ideas and applications ranging from energy-efficient stereo systems and LED screens to clean and smoke-free fireworks were in full swing at the ceremony.
Program menus, brochures, gift handbags and props for the ceremony were made of recyclable paper, and used milk boxes had been turned into 2,000 VIP seats.
Xinhua News Agency said the Expo "is set to be remembered for ... magnificent exhibits, architecture and ideas for urban sustainability", adding that visitors will see a "kaleidoscope of landmarks, ideas and visions".
The spotlight will be on the cutting-edge architecture of pavilions in all shapes, colors and sizes, branded with each country's or region's unique culture and history.
The city has reportedly spent $58 billion on the Expo and related infrastructure to accommodate the 70 million people, mainly Chinese, who are expected to visit during the six-month event.
Hu pledged earlier to host an "unforgettable" Expo that will bridge China and the world.
"I am confident that people around the world will witness a successful, splendid and unforgettable World Expo," Hu said at a dinner to welcome foreign dignitaries. French President Nicolas Sarkozy and European Commission President Jose Manuel Barroso were among some 20 heads of state and world leaders attending the event.
The Expo will be an opportunity for China and also for the world, Hu said.
China will present to the world a country with a 5,000-year history, which is enjoying fast development and changes through reform and opening up, he said.
Vicente Gonzalez Loscertales, Secretary-General of the BIE, told China Daily that the Expo "represents the crystallization of the profound commitment and dedication of the Chinese government and of its people to achieve ... a better understanding between China and the world".
"Yes, we want to strengthen not only economic ties, but also cultural links. We hope partnerships will go both ways," said Hreinn Palsson, Iceland's commissioner-general to the Shanghai fair.
Hernan Somerville, Chile's commissioner general to the Expo, said the money spent on the occasion is an investment that "will pay very high intangible dividends in terms of image, connections, and cultural and human relationships (with China)".
Huang Yaocheng, a consultant at the Bureau of Shanghai World Expo Coordination, said the Expo will affect China's economic development in a way for low-carbon concepts to prevail.
"Innovation will also become a driving force behind China's development," he said.
Xinhua, AP and Reuters contributed to the story
(China Daily 05/01/2010 page1)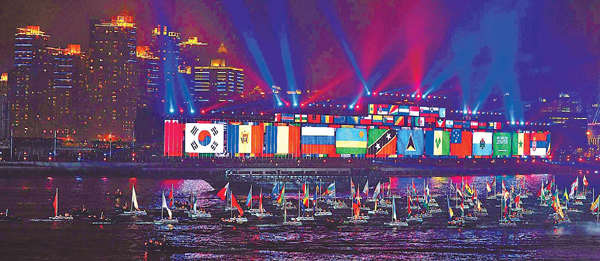 Ships decorated with flags of participating Expo countries and regions line up on the Huangpu River as the fireworks show opens.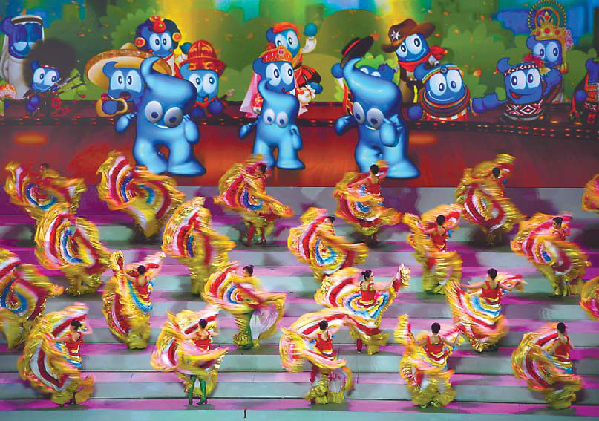 Swirling dancers and the "Haibao" mascots liven up the stage.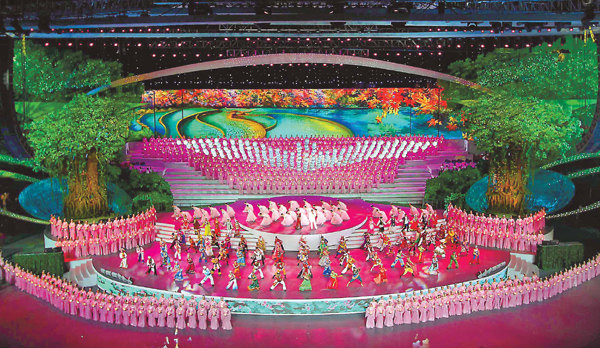 Singers and dancers perform at the opening ceremony on Friday night. FAN JUN / XINHUA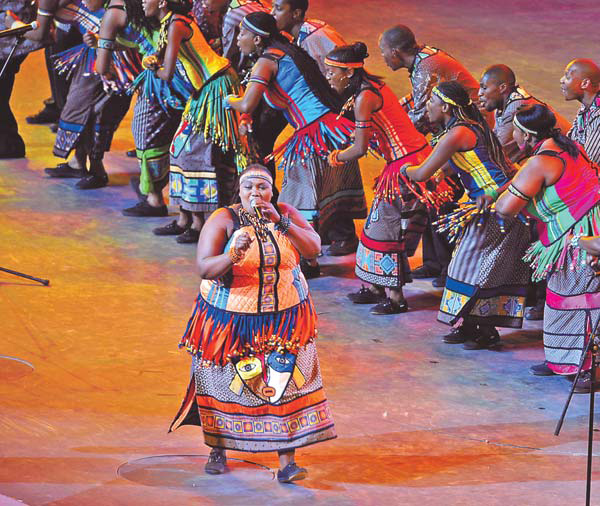 Above: The Soweto Gospel Choir from South Africa brings traditional songs and dances to the opening ceremony. CHEN SHUGEN / XINHUA