The emerging economies remain under-represented in various global economic regimes, but there could be some substantial changes in the coming two years in terms of their representation in organizations such as the International Monetary Fund (IMF), according to a leading scholar from the Chinese Academy of Social Sciences (CASS).
"The emerging economies are becoming indispensable," said Zhang Yuyan, director of the CASS Institute of World Economics and Politics. "It is premature for them to set the global agenda, but without their involvement, any major agenda set by the developed countries would not work," he said.
Organizations such as the IMF are set to make some major changes in line with the growing importance of emerging economies, he said. "It could happen in the coming two years," said Zhang, who has written a report on emerging economies for the Boao Forum for Asia.
In the report, which summarized the current economic conditions of major emerging countries as well as their prospects in global governance, emerging economies are referred to as G20 members excluding developed economies. They include Argentina, Brazil, China, India, Indonesia, South Korea, Mexico, Russia, Saudi Arabia, South Africa and Turkey. The report also calls them E11 economies.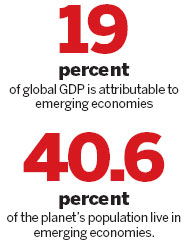 During the global financial crisis, the E11 countries have had more voice in the global decision-making process, but their representation needs to be further improved, the report said.
Major emerging economies such as China, India, Brazil, South Africa and Russia have conducted multi-lateral negotiations on key issues under the framework of the IMF and World Bank annual conference and the G7+X. They have also increased communications and coordination on key issues such as finance, agriculture, education, and energy.
"But in reality their representation and voices in the global economic order are disproportionate with their growing economic prowess," the report said. Their combined GDP accounts for about 19 percent of the global total and they have 40.6 percent of the global population. "The world economic order remains irrational and unfair."
Meanwhile, those countries, given their different social and economic regimes and interest, may suffer from disputes between themselves, the report said. In 2008, for example, Brazil took anti-dumping measures against Chinese and Indian products.
"Differences are normal and will continue among them, but that won't affect their cooperation," Zhang said.
The report also outlines some potential challenges facing these economies although they have generally fared well in the wake of the global financial crisis.
"The ratio of fiscal deficit of emerging economies to their GDP has increased markedly, and for some countries, it has risen to nearly 7 percent," said the report.
In 2009, Russia's proportion of fiscal deficit to GDP reached 6.8 percent. In India, it was 6.7 percent while it was 3.5 percent in Brazil. The high ratio has been a result of economic slow-down and fiscal expansion as a means to combat the impacts of the global financial crisis.
The report said the E11 economies also face the risk of rising inflation and asset bubbles as well as rising protectionism and growth uncertainties caused by lack of new industries that could become growth engines of those economies.
CHINA DAILY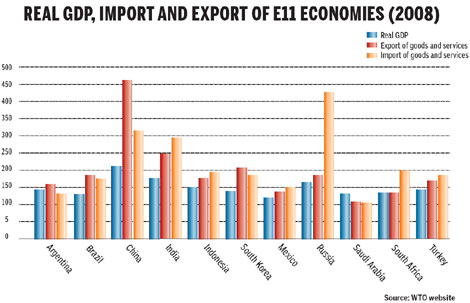 (China Daily 04/09/2010 page18)