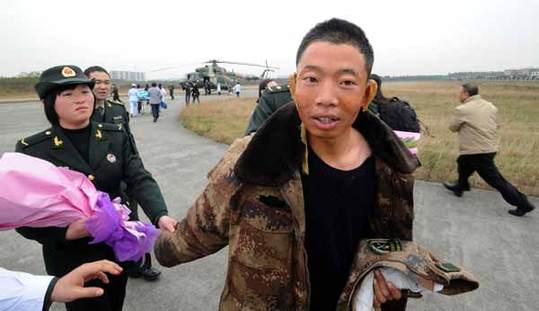 Gao Zhenpeng, one of three firefighters injured in the grassland blaze in Dawu county, Sichuan province, is transferred to the Chengdu Military General Hospital on Dec 6. [Yu Ping / for China Daily]
CHENGDU - Doctors say the burns on Gao Zhenpeng's body will heal over time. The same cannot be said for the scenes of death seared into his mind.
Gao is one of only three injured soldiers who survived after being trapped in a grassland fire last Sunday in Southwest China's Sichuan province.
Fifteen other soldiers, along with two forest workers and five local residents never made it out alive.
Related readings:


 Technology may help save grasslands from fiery wrath


 President Hu urges efforts to cure wounded fire fighters


 22 people killed in SW China prairie fire


 Deadly blaze in Sichuan extinguished
"I heard heartbreaking screams all the way out. But each person's screams lasted only 10 seconds before dying down. The ensuing silence was terrible," Gao said.
It was about 2 pm on Sunday when a huge plume of smoke was first reported near Zilong village of Xianshui township. Gao, a 23-year-old medic, were chatting with fellow soldiers during a break from training.
Within several minutes, he and 70 other soldiers had equipped themselves with tools and first-aid supplies.
"Commanders often say a fire is an emergency to people living in grasslands, so we have to respond quickly," said Gao, who lay on a hospital bed with his face darkened by the heavy smoke and flames that had surrounded them.
Less than 50 minutes after arriving, the soldiers in gas masks and carrying spades put out the blaze on the left side of the mountain. However, an unexpected wind whipped up the embers and trapped four women deep in a gorge on the mountain's right side. Guided by deputy company commander Wei Qiang, Gao and his fellow soldiers hurried to help.
Gao dropped the toolkit and did his utmost to save the women. But the fire soon trapped him as well.
His pants were burning, sending pain tearing up his legs. Just before being suffocated by smoke, Gao and other soldiers ran as hard as they could to escape the fire, racing up the hillside with another local resident.
"It was a difficult escape," Gao recalled. At one point, Gao said, he was on the brink of giving up when he heard a loud shout from Wei.
"He shouted, 'Run! Run fast!'" Gao said. "Somehow that gave me the energy I needed."
They tried to head into the area where the grass fire had been put out, but in the soaked and ashen soil many of them slipped back into the fire.
He still remembers the sounds of his companions screaming on their way down.
Gao passed out briefly after reaching safety, but when woken up by another rescuer he returned to the fire.
"Responsibility and kinship with my fellow colleagues drove me back there," Gao said.
Wei, deputy company commander, was the only survivor Gao found near the scene. By then, all the skin on both of his hands had peeled off and blisters were appearing on his face.
"It was impossible to rescue any of the ones who had fallen into the fire because everything happened so fast. But we still feel so sorry about that," said Wei, choking.
Together with the two other injured rescuers, Gao is still receiving treatment at the Chengdu Military General Hospital in the provincial capital, about 600 km from where they fought the fire.
The deputy commander will be all right with less than 10 percent of his body burned. But another soldier who survived, Lu Yuanxiong, is still in critical condition with around 55 percent of his body burned, according to Tan Jiatao, an expert who is in charge of the medical treatment of the wounded.
Doctors said on Wednesday that Gao is likely to be discharged from hospital in 10 days.