Dry weather and strong winds combine to turn prairie blazes into "seas of fire" Huang Zhiling in Sichuan and Jiang Xueqing in Beijing report.
Cizi had just returned home from tending his cattle when he saw a fire on the nearby grassland. Frightened, the herdsman attempted to put out the flames with a mop, but fell and injured his right leg.
Using all his strength, he picked himself up and narrowly escaped as a strong gust of wind whipped the flames 40 meters into the air.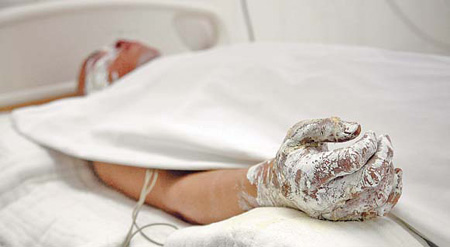 A man severely injured in last week's Dawu fire receives treatment in a military hospital in Chengdu, capital of Sichuan province, on Monday. [Gu Fang / for China Daily]
His wife, who was in another part of the valley, was not so fortunate.
She was one of 22 people killed by the blaze that raged for almost 24 hours in Dawu, a remote mountainous county in Southwest China's Sichuan province.
The wildfire - the most devastating to the area in decades, say experts - broke out at noon on Sunday and trapped dozens of firefighters and villagers. It was eventually extinguished at 11:10 am the next day.
"I had seen grassland fires before, but never anything like this," said Rongpo (like most ethnic Tibetans, he uses only one name) in Zilong village. He said the memory will haunt him forever.
Police and high-ranking officials are still investigating the cause of the fatal blaze, which scorched 33 hectares of land, according to He Xinghua, an information officer for the Garze Tibetan autonomous prefecture.
Fires are not uncommon on Dawu's 410,000 hectares of natural grasslands, although this time strong winds played a major part in spreading the flames.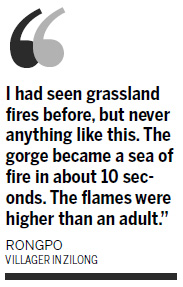 Rongpo said he was eating lunch when a neighbor told him there was thick smoke rising from Xiawu Gorge, about 400 meters from his home. He rushed out on his motorbike to investigate before calling the authorities to raise the alarm.
More than 1,000 firefighters, forest workers and soldiers with the Chengdu military region of the People's Liberation Army were on the scene at about 12:40 pm.
The steep-sided gorge is almost inaccessible to vehicles, which meant firefighters could only use portable equipment and rudimentary tools like spades, tree branches and bamboo brooms to stamp out the flames, said Qin Tingqun, head of fire prevention for Dawu's public security bureau.
At about 3:10 pm on Sunday, the blaze was almost out - but just as Rongpo was about to celebrate by inviting his neighbor home for a drink, a gust of wind re-ignited the embers, trapping the duo with several soldiers and forest workers.
"The gorge became a sea of fire in about 10 seconds," he said. "The flames were higher than an adult."
Some of the grass in the gorge was almost 1 meter tall and acted like "a tornado, trapping people", added Zhu Jishuang, an official in Xianshui, the town that administers Zilong. "It was as if the gorge had been immured with gasoline."
Fifteen soldiers, two forest workers and five villagers, including Cizi's wife and the man Rongpo invited to have a drink, died.
Badro, a 51-year-old ethnic Tibetan from Rongpo's village, was among five others who were injured. She suffered burns to 95 percent of her body and is now in a critical condition at People's Provincial Hospital in Sichuan's capital, Chengdu.
As the fire continued to rage on Monday morning, authorities sent 460 more firefighters to help isolate the flames before the arrival of further strong winds, which had been forecast for the afternoon.
Many villagers had spent the night carrying buckets of water from the foot of the mountain to the fire, a four-hour trek. The buckets weighed about 20 kilograms each, said Rongpo.