| | |
| --- | --- |
| Editor's Note: There is only one terminal for lovebirds who want to be with each other for a lifetime, but there are many ways to drive toward the terminal. Weddings do not necessarily need to be grand or conventional, and neither do proposals. China Daily website editors chose 10 wedding ceremonies and proposals, some of which may move you to tears and some may put a smile on your face. That is the power of love. | |
Click for more "top ten" topics
Bride Tang Mei and groom Wu Chunpeng first met at a swimming pool in the Natatorium of Nanjing Olympic Sports Center. What's romantic about their love story is that their wedding ceremony was held in the place where the couple first met. 

As both are from the People's Liberation Army (PLA), they chose to tie the knot on China's Army Day, Aug 1, 2010. After a simple wedding ceremony on the 10-meter platform, the couple exchanged rings in the water. 
| | | |
| --- | --- | --- |
| | | |
| Shen Xue (L) and Zhao Hongbo enjoy their long-delayed wedding party as part of the "Artistry on Ice" figure skating gala. | Shen Xue and Zhao Hongbo enjoy their long-delayed wedding party as part of the "Artistry on Ice" figure skating gala. | Shen Xue and Zhao Hongbo meet between a line of young children wearing wedding outfits. |
China's first Olympic champion figure skaters Shen Xue and Zhao Hongbo held an on-ice ceremony in the Capital Gymnasium on Sept 4, 2010.

The pair skated in wedding outfits as they enjoyed their long-delayed wedding party as part of the "Artistry on Ice" figure skating gala in Beijing. The couple also invited many of the sport's superstars, including Alexei Yagudin, Asada Mao, Stephane Lambiel, Jonny Weir and Joannie Rochette.

Tang Li is a bus driver in Wuchang, Hubei province, and Nov 13 was a big day for her. She boarded her bus in the morning as usual, but on this day, she was wearing a wedding gown. Tang Li was going to drive her bus to the wedding ceremony with her soon-to-be husband, Ma Jun.

Her bus was decorated with purple and pink balloons, and one of her big wedding photos was pasted outside the bus. Behind the photo, Chinese characters read, "We are going to get married."

Tang had the idea of driving the bus to her wedding in October. Her idea was shared by Ma Jun, who also thought it was a good way to be environmentally friendly.

Tang Li (R) and Ma Jun pose for photos on the 586 bus in Wuchang, Central China's Hubei province on Nov 13, 2010.
Lou Bin had been dreaming of holding his lovely fiancee's hands and walking down the aisle for many times. Unfortunately he was diagnosed with leukemia before their wedding and had to wait for a bone marrow transplant in Wuhan No 5 Hospital in Central China's Hubei province.

Naturally he was depressed, and even desperate. But his 27-year-old fiancée Guo Qian decided to move their wedding ceremony to the ward. The couple said "I do" in the hospital ward on July 19, 2010.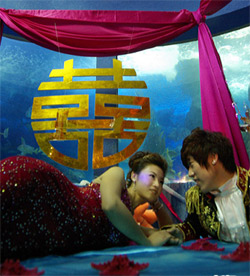 The "bridal chamber" was a cylinderical glass room at the end of the underwater channel. With several dozens starfish, sharks, ray fish and turtles swimming against the deep blue background outside the glass chamber, the new couple entered the room. [Photo/Qingdaonews.com] 
Hundreds attended a submarine wedding held in Qingdao Underwater World on Oct 10.

Actors performed Mermaid and Price on the theater stage at 9 pm. The "mermaid" bride and the "prince" groom walked onto the stage hand-in-hand.

The shell in front of them opened and released the wedding ring during the vows, delivering the wishes of the ocean. The new couple exchanged wedding rings in front of their audience of visitors and sea creatures.
About 50 cyclists escort bride Song Zhao and groom Liu Yang to their wedding ceremony in Weifang, East China's Shandong province on May 16, 2010.

Both the bride and groom enjoy cycling and they fell in love with each other at a cycling outing. The escorts, in red T-shirts and jeans, are the couple's cycling buddies. 

To be environmentally friendly, the couple chose to go on bikes instead of fancy automobiles to their wedding reception. 
Newlywed couples take a ride on Line 1 to experience a "subway wedding" in Shenyang, Northeast China's Liaoning province on Sept 27, 2010. Line 1 started operation on Sept 27, complete with 50 couples on their wedding day.
 
In the most romantic method he could think of, Yang Yaozhong, 27, proposed to his girlfriend on a street in Suzhou on June 3, 2010.

He presented her with a banner, on which he had collected 999 good wishes (Nine in Chinese represents "forever") from passers-by, and he wrote in big Chinese characters, "Meimei, I will love you forever." 
Miss Zheng and her friends were waiting to see a man-and-shark dance and a mermaid performance at an underwater theme park in East China's Fujian province on March 7, 2010, when she was surprised by her boyfriend, who showed up in the tank with red roses, a ring and a banner that read, "Marry me."

Zheng was greatly touched and said "yes" on the spot. Zheng's boyfriend later told media that he knew blue was Zheng's favorite color and he wanted to give his girlfriend a romantic proposal that she would never forget.


Two parachutes appeared in the sky above the Century Square in Wenzhou, East China's Zhejiang province on Nov 27, 2010. Each parachute was emblazoned with a question. The first read: "River, will you marry me?" and the other carried the same proposal written in Chinese. 

Rose petals were scattered down from the sky before a little box was dropped contained a ring. Upon catching the box, the hopeful groom, named Shen, went down on one knee to pop the question to his girlfriend, River. 

Shen said later it took him two weeks to prepare the proposal after asking two friends from a parachute club to his romantic wish come true.