BEIJING - Chinese President Hu Jintao met with British Prime Minister David Cameron in Beijing Wednesday.
Hu greeted Cameron in the Great Hall of the People in downtown Beijing, and asked the prime minister to convey his sincere greetings to Queen Elizabeth II.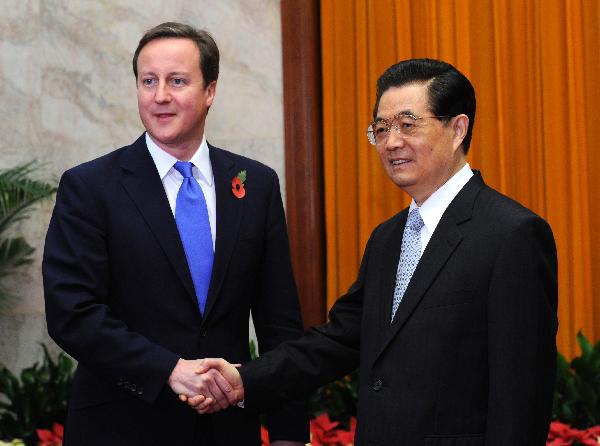 Britain's Prime Minister David Cameron (L) shakes hands with China's President Hu Jintao in Beijing Nov 10, 2010. [Photo/Xinhua] 
Special coverage:


UK PM Visits China
Related readings:


 Wen, Cameron exchange views on bilateral ties


 UK's Cameron in Beijing on business-centered visit


 UK's Cameron seeks to double trade with China


 Cameron seeks to bolster UK trade ties with China
Hu recalled his meeting with Cameron at the Group of 20 summit in Toronto, Canada, earlier this year, saying they had "very good" talks on bilateral relations and issues of mutual concern.
Hailing Cameron as the youngest British prime minister in 200 years, Hu said he was "impressed" by Cameron's great effort to develop China-Britain relationship.
"I believe the bilateral relations will develop further during your term," Hu told Cameron.
Cameron thanked Hu's warm greetings and said he looked forward to meeting Hu again at the G20 summit in Seoul later this week.
Britain highly valued relations with China, said Cameron, adding that Britain places great attention to the "high-level dialogue covering all areas" between the two countries.
Cameron arrived in Beijing Tuesday on his first official visit to China since he took office in May.
He is leading the biggest ever delegation to China, among whom including top officials like Chancellor of the Exchequer George Osborne and Secretary of State for Energy and Climate Change Chris Huhne. About 50 leading UK industry and commerce figures also came with him.