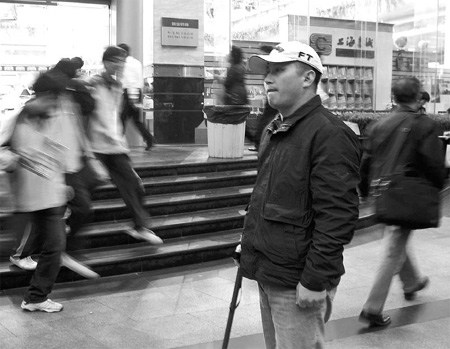 Tang Wenlong, a detective with the Shanghai police, keeps a lookout in front of a store in the city on Monday. [Yong Kai/for China Daily]
SHANGHAI - Some say Tang Wenlong has a pair of X-ray eyes and a "sixth sense" which can detect pickpockets in a crowd.
"Pickpockets usually look nervous and have shifty eyes. What's more, they often edge into the crowd," he said.
Over his 21-year career as a plainclothes policeman, he has nabbed more than 1,500 pickpockets - a record high at his station. And at the age of 52, he is still catching more.
Day after day, he walks around bustling shopping areas in Shanghai like Nanjing Road and People's Square for hours, looking for suspicious people.
"It's like looking for a needle in a haystack, so I really need to pay attention," said Tang.
It has been his habit over the years to observe people in the streets, even when he is off duty.
"I have endless energy, especially when I was younger," he said. "I just can't help doing it, just like the pickpockets can't help stretching their hands into other people's pockets."
Tang checks online every day to see where recent thefts happened, then goes there looking for pickpockets.
"I never feel tired when following a suspect, instead I'm always very excited. I once finally caught a pickpocket at 1 am after following him for hours. I hadn't even had supper," he said.
Tang is very proud of winning the battle of wits between him and pickpockets.
"I especially enjoy dealing with experienced thieves."
He recalled one case where he had to doggedly tail two suspects to catch them stealing bags from cars.
"When I first saw the two men, I instinctively sensed something unusual as they kept glancing into cars when they walked by them," he recalled.
So he stayed nearby and observed them for the whole day, but nothing happened.
"My colleague told me I may have misjudged them, but I insisted on waiting for them the next day," he said.
Tang was right. When a driver went to pay a parking fee, the two men furtively opened the back door on the passenger's side. When the driver returned to lock the car, the slightly ajar door remained open.
One of the men then broke into a car and Tang caught him on the spot. He recovered 170,000 yuan ($25,000) in property including a bag containing cash, a luxury pen and a cell phone.
"Each time I crack a big case, I always feel a sense of achievement," he said.
He analyzes his cases afterward, noting what worked for future reference.
"When my son was a little boy, he always asked me to tell him stories before he fell asleep. I didn't know children's stories, so I often told him stories of how I caught thieves," he said. "At last, even my son got tired of my stories."
Tang was once a fast runner - another useful skill to catch pickpockets.
However, he can't run that fast any more, as he suffers from rheumatoid arthritis, bone spurs and water on the knees after walking many long hours over the years.
When he takes the stairs now he has to hold the handrail tightly and take every step slowly because he can hardly lift his knees.
"The diseases are hard to cure," he said. "Sometimes I feel as if thousands of needles are stabbing my knees."
Nevertheless, he still keeps walking the streets with a stick. "I'm not able to run after a pickpocket now, but I can help to identify the suspects," he explained.
Despite all the pain, Tang has no regrets. "I chose the career and I must do my best," he said.
As an expert in catching pickpockets, Tang has taught around 40 apprentices.
"I'm a strict teacher. I always tell them to keep focused when working and not be afraid of hardship," he said. "But I'm willing to teach them all my experiences."
Tang believes catching pickpockets is something beneficial to ordinary people.
"When they tour the city or are in a good mood while they go shopping, I don't want them to suffer any losses," Tang said.
"It's indeed a hard job, but it's rewarding and I can always find pleasure in it."
China Daily