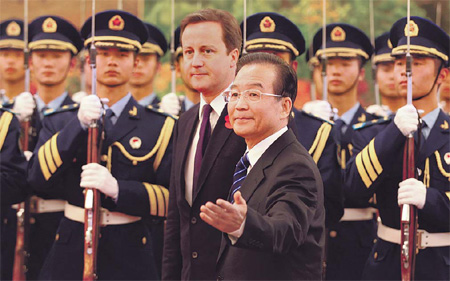 Premier Wen Jiabao accompanies British Prime Minister David Cameron as they review a guard of honor at a welcome ceremony in the Great Hall of the People in Beijing on Tuesday. [Wu Zhiyi/China Daily]
He may have flown halfway around the world but David Cameron found himself in familiar surroundings when he arrived in China on Tuesday - a Tesco supermarket.
Special Coverage:


UK PM Visits China
Related readings:


 China-UK economic talks end with important agreements


 UK PM Visits China


 China, Britain pledge closer economic ties


 Relations between China and Britain
The chain's trademark red-and-blue sign is ubiquitous in Cameron's home country, although the British prime minister will no doubt have noticed a few subtle differences with the store he visited after landing at Beijing Capital International Airport.
Instead of the usual bread and biscuits in the United Kingdom, the store in Beijing's eastern Happy Valley area is stocked with foods popular with Chinese customers, meaning more fresh fish and noodles.
This ability to adapt to a very different market has proved a real strength for Tesco, whose executive director, Lucy Neville-Rolfe, is part of the largest-ever British delegation to China.
The company has become an increasingly common sight in cities on the Chinese mainland since opening its first store in 2004. Today, it boasts 99 outlets and is planning a 2-billion-pound ($3.2 billion) investment over the next five years, according to media reports.
It is this kind of success that many of the more than 40 other business leaders, part of the visiting delegation, are keen to replicate.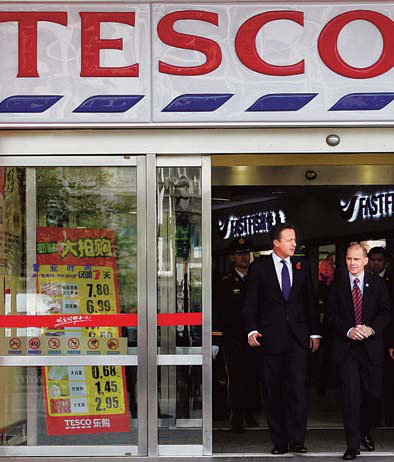 British Prime Minister David Cameron (left) leaves a Tesco store, his first stop after arriving in Beijing on Tuesday. [Darren Staples/Reuters]
Cameron, who is also accompanied by four ministers (Chancellor of the Exchequer George Osborne, Business Secretary Vince Cable, Secretary of State for Energy and Climate Change Chris Huhne and Education Secretary Michael Gove), stated before leaving London that the mission of his two-day visit to China, his first since he took office, was to boost trade between the two nations.
The prime minister said he plans to more than double British exports to China over the next five years from their current level of 7.7 billion pounds to 18.5 billion pounds by 2015.
A number of deals had already been announced, including measures to boost sales of Scotch whisky and allow the import of breeding pigs into China. But the highlight on Tuesday was a $1.2-billion tie-up inked by China Eastern Airlines and Rolls-Royce for 16 Airbus 330-200 jet engines.
The signing was witnessed by Cameron, who met Premier Wen Jiabao for afternoon talks at the Great Hall of the People to discuss ways to boost trade.
Beijing is expecting London to expand cooperation in the fields of high-end manufacturing, innovation industry, finance service, energy saving and environmental protection, said Wen during the meeting. He also urged Britain to further release the restrictions on high-tech exports to China, a move that would be conducive to more balanced and sustainable bilateral trade growth.
The Chinese premier reaffirmed his nation's commitment to intellectual property rights protection, vowing to provide a more transparent, regulated and convenient environment for investment. He also promised to encourage more Chinese investment in Britain, calling for a simple administrative process, more targeted service and easier visa application.
In response, Cameron said Britain views China's development as an opportunity and welcomed Chinese companies' participation in the UK's infrastructure construction.
In 2009, UK exports to China increased by 6.2 percent year-on-year, despite trade with other countries dropping dramatically due to the global financial crisis.
In the first three quarters of 2010, British investment in China also expanded by 43 percent year-on-year, according to Sun Yongfu, director-general of European affairs department for China's Ministry of Commerce.
"Overall, the Sino-UK relationship has been stable, especially compared to relationships with (other nations in) Europe. It has always been very practical," Tian Dewen, an expert on UK studies at the Chinese Academy of Social Sciences, told China Daily.
Cameron is scheduled to meet President Hu Jintao on Wednesday to focus on the topic of the G20 summit in Seoul, the South Korean capital, this week. He will leave Beijing later that day after giving a speech at Peking University.