BEIJING - The China-UK Economic and Financial Dialogue held in Beijing Tuesday resulted in important agreements on strategic,long-term economic issues, Chinese Vice Premier Wang Qishan said.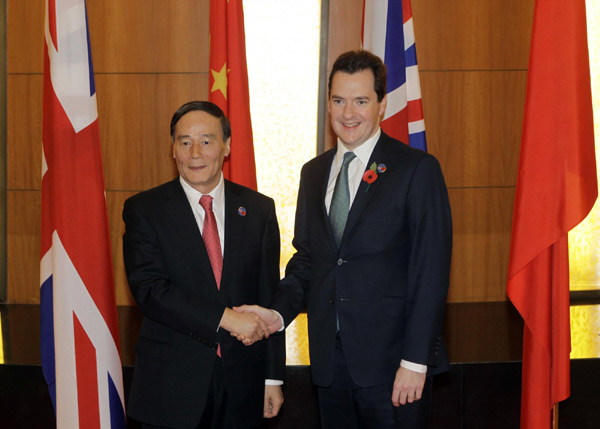 Britain's Chancellor of the Exchequer George Osborne (R) shakes with China's Vice Premier Wang Qishan ahead of the third China-UK Economy and Financial Dialogue at Diaoyutai Guest House in Beijing, Nov 9, 2010. [Photo/Agencies] 
Related readings:


 UK PM Visits China


 UK's Cameron in Beijing on business-centered visit

 China, UK seek closer ties in economic dialogue


 UK's Cameron seeks to double trade with China

"The dialogue has produced important consensus and outcomes," Wang said at a joint press briefing, after co-chairing the dialogue with UK Chancellor of the Exchequer George Osborne.
Both sides agreed countries across the world should jointly promote strong, sustainable and balanced global growth, said Wang.
The current priorities were to support comprehensive global recovery by enhancing macro-economic policy coordination, resisting all forms of protectionism, and avoiding politicization of economic issues, said Wang.
Both sides welcomed the important progress on the International Monetary Fund's (IMF) quota and governance reform, and would work together to push forward international financial regulatory reform, he said.
Wang said both China and the UK stressed that the transformation of economic development patterns and structural adjustment was essential to the sustainable development of both economies, and the UK reaffirmed its support for EU recognition of China's market economy status at an early date.