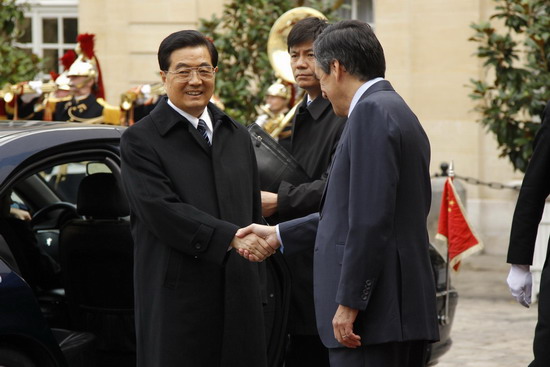 China's President Hu Jintao (L) is greeted by France's Prime Minister Francois Fillon before a meeting at the Hotel Matignon in Paris November 5, 2010. [Agencies]
BEIJING - Forbes magazine has named President Hu Jintao as the world's most powerful person, a move that analysts say shows global acknowledgement of China's contribution to the world's economic recovery.
United States President Barack Obama slipped to second place on the annual list.
Obama had previously been considered the world's most powerful person but his party's defeat in the midterm elections may have had some influence on the latest rankings. China's peaceful rise on the world stage is also likely to have been a decisive factor.
Analysts said China's burgeoning economy might have tipped the scales in Hu's favor. They noted that China's remarkable contribution to the world's economy helped it gain a strong international reputation.
Yuan Peng, a researcher with China Institutes of Contemporary International Relations, said other nations have been struggling with the economic recession while China has impressed the world with its economic development.
"It has not only achieved rapid economic growth in the shadow of the financial crisis but it has also helped other nations by providing capital and markets that are badly needed," Yuan said.
Fan Jishe, an analyst with the Chinese Academy of Social Sciences, said another significant factor in Hu's ranking was China's stable social development and its ability to overcome natural disasters in recent years.
"The effective measures taken by the government also earned credits for Hu," Fan said.
Fu Mengzi, another researcher with China Institutes of Contemporary International Relations, said the Shanghai Expo also served as a good opportunity to promote China and raise Hu's profile.
Forbes magazine said it used four criteria to define power - whether the person has influence over a lot of people; whether the person controls significant wealth compared to their peers; whether the person is powerful in more than one sphere and whether they actively wield that power.
Third place went to King Abdullah of Saudi Arabia, a country with one-fifth of the world's oil reserves. The value of crude oil owned by his country is estimated at $22 trillion. The magazine claimed Abdullah consolidated his power by pursuing conservative Islamic values while maintaining close ties with the US.
Wang Di contributed to this story.
China Daily