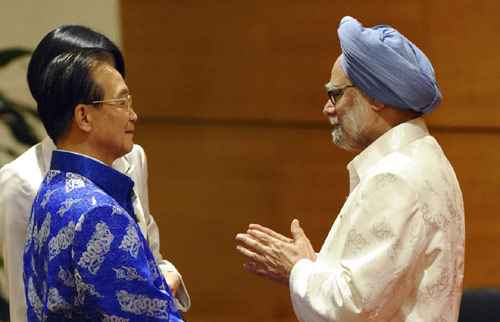 China's Premier Wen Jiabao (L) talks to India's Prime Minister Manmohan Singh before a gala dinner on the sidelines of the 17th summit of the Association of Southeast Asian Nations (ASEAN) in Hanoi, the capital of Vietnam, Oct 29, 2010. [Photo/Agencies]
Premier Wen set to visit India later this year, marking 60 years of bilateral ties
Hanoi - Beijing and New Delhi on Friday agreed to seek a just and reasonable resolution to their border dispute, sending out a positive note ahead of Premier Wen Jiabao's visit to India later this year.
While meeting his Indian counterpart Manmohan Singh on the sidelines of a series of regional summits, Wen said there is enough space in the world for both China and India to develop and cooperate, adding he is willing to visit New Delhi to celebrate the 60th anniversary of the establishment of diplomatic ties.
Related readings:


 China, India are partners rather than rivals: Indian PM


 Co-op with China benefits the poor: India


 China solar energy firm to set up joint venture in India


 China, India made for each other
"To make the visit a productive one, we will reach a consensus on some major aspects to lay a foundation for the visit," Wen said.
After the closed-door discussion, Wen and Singh reached a consensus on maintaining the peace and calm of border areas and expressed a willingness to explore ways to solve border conflicts in the spirit of mutual respect and understanding.
Wen also said China is willing to work with India on major global issues to protect the interests of developing countries.
As developing countries, China and India have overlapping interests on a range of important issues, including global economic recovery and climate change. Therefore the prospects for bilateral ties remain promising, according to Du Youkang, head of Fudan University's Center for South Asia Studies.
Singh said Beijing and New Delhi are friends rather than rivals and bilateral ties have brought substantive benefits to the people of the two countries. He said the Indian government has attached great importance to the development of Sino-Indian ties and is ready to improve high-level exchanges and negotiations.
Friction over disputed border areas has bothered the world's two most populous countries for a long time despite bilateral trade having grown 30-fold since 2000.
"China and India have reached the consensus that they need to create a favorable external environment for the sake of domestic economic growth," said Fu Xiaoqiang, a scholar in South Asia studies at the China Institutes of Contemporary International Relations.
"It is not surprising they have territorial disputes as they are both big neighboring countries. But the two nations should learn to properly handle sensitive regional issues to avoid unnecessary conflicts," Fu said.
The two nations, Fu added, need to focus more on building trust and people-to-people exchanges, which are insufficient compared to close economic links, Fu added.
He Wei contributed to this story.