Some say a clean, civilized city is a matter of civic responsibility
XI'AN - A campaign to keep the streets in Xianyang, Shaanxi province clean by offering residents cold hard cash for each discarded cigarette butt they pick up in urban areas has erupted in a dispute, but local leaders are sticking to their principles.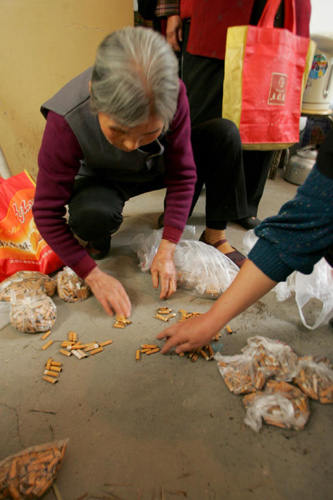 An old woman counts the cigarette butts she collected, anticipating her reward, at a public hygiene office in Xianyang, Shaanxi province on Oct 18. [Wei Guangjing / for China Daily]
Hou Xi'an, deputy head of the city office in charge of the effort, explained: "We started the drive as part of an effort to make our city more clean and civilized, increase public environmental awareness and warn against the dangers of smoking."
Related readings:


 China scientists find use for cigarette butts


 Current cigarette laws too weak


 Cigarette packaging may still mislead consumers


 Branding ban on cigarette packs?
And Han Baofeng, deputy secretary-general of the city, told China Daily on Wednesday that the campaign will not stop until the end of December.
"We will improve the imperfect measures of the drive and continue our good efforts," Han added.
The drive, which started on Sept 18, was part of an effort to help Xianyang in the competition for National Health City title. The government will pay locals 0.05 yuan ($0.0075) for each cigarette butt they pick up from city streets.
In the past month, loyal citizens have handed over a total of 7 million cigarette butts to the government and more than 100,000 yuan has been paid out for 2 million of the undesirable things. A shortage of funds has kept the other 5 million butts from being paid for.
The China News Service reported on Wednesday that one person had turned over 7,500 butts at one time. Most of the participants are old people and students.
Unfortunately, some people turned out to be naked opportunists who resorted to fraud by collecting the butts from net cafes, restaurants or even garbage bins to get a reward, the China News Service said.
However, in spite of whatever flaws the drive may have, local people have welcomed it.
Wang Guifu, a 64-year-old man who gathered some 2,200 butts, said it is a good way to encourage locals to keep the city clean and he hopes the drive can continue.
Another local, Zhao Ang, said he saw an old man pick up the cigarette butt that he (Zhao) had just discarded.
"From then on, I stopped throwing anything away in public places," Zhao said.
However, another local, Wang Chao, argued that the government should not have to pay people to encourage them to act in a civilized way: "It should be a conscious, voluntary action, not about getting paid."
Shi Ying, deputy head of the Shaanxi Academy of Social Sciences, sees things in a slightly different way. Shi maintains that any government move should be both serious and scientific. "The awards should be improved to deal with the increasing problem and to keep the drive going in a healthy, honest way," he said.
The city office in charge of the effort has made measures such as the checking of ID cards and certification by sanitation workers when locals hand the collected butts in.