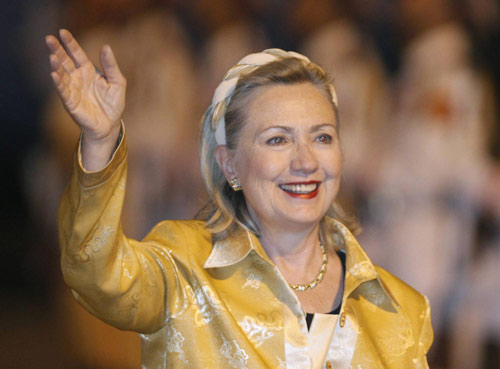 US Secretary of State Hilary Clinton waves to the media upon her arrival at the Noi Bai airport for the 17th ASEAN Summit in Hanoi, the capital of Vietnam, Oct 29, 2010. [Photo/Agencies]
BEIJING - China Friday voiced concern over and strong dissatisfaction with US Secretary of State Hillary Clinton's recent remarks concerning China's Diaoyu Islands.
Related readings:

 College students protest Japan over Diaoyu Islands


 Diaoyu Islands dispute a watershed


 China, Japan have no secret deal on Diaoyu Islands

 US-Sino ties not zero-sum game: Clinton
"The Chinese government and people will never accept any word or deed that includes the Diaoyu Islands within the scope of the US-Japan Treaty of Mutual Cooperation and Security," said Foreign Ministry spokesman Ma Zhaoxu.
After her meeting with Japanese Foreign Minister Seiji Maehara in Hawaii Thursday, Clinton said the Diaoyu Islands fall within the scope of the US-Japan security treaty.
"The Diaoyu Islands have been an integral part of Chinese territory since ancient times. China has indisputable sovereignty over the islands," Ma said.
As a bilateral agreement reached during the Cold War, the US-Japan security treaty should not harm the interests of third parities, including China, the spokesman said.
He urged the United States and Japan to do more to boost regional peace and stability.