BEIJING - A total of 180,000 Chinese soldiers were killed while they fought with North Korea against US aggression in the early 1950s, a Chinese major general said ahead of the 60th anniversary of the Korean War, which fell last Friday.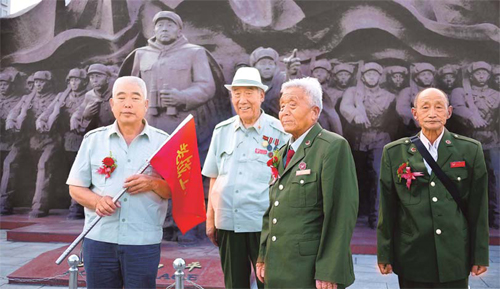 Veterans of the War to Resist US Aggression and Aid Korea stand in front of a war memorial on June 10 in Dandong, Liaoning province. They are part of a group who left for North Korea on June 11 to pay condolences to the soldiers who died there. [China Daily] 
More than 110,000 members of the Chinese People's Volunteer Army died in combat in the war that involved 18 countries, Major General Xu Yan, who is also a professor with the Chinese People's Liberation Army's National Defense University, wrote in an article in the latest issue of WenShi Cankao, a periodical under the People's Daily.
Before China's reform and opening up in the early 1980s, the casualty figures of Chinese troops in the Korean War had not been released.
In the 1980s, an increasingly transparent China said a total of 360,000 soldiers were killed or injured, but the number of deaths remained a mystery.
Xu said in the article that from October 1950 until July 1953, a total of 2.97 million Chinese soldiers fought in the War to Resist US Aggression and Aid Korea, as it is known in China.
According to statistics compiled by the army's medical departments and hospitals, 114,084 servicemen were killed in military action or accidents, and 25,621 soldiers had gone missing. The other about 70,000 casualties died from wounds, illness and other causes, he said.
To date, civil affairs departments have registered 183,108 war martyrs, Xu said.
China's involvement enhanced China's international standing and boosted its people's self-confidence, Xu added.
The Korean War was fought from June 25, 1950 until July 27, 1953. China entered the war on North Korea's side in October 1950.
Military researcher Major General Luo Yuan told China Daily last week the military's institution for retired veterans is currently collecting information about those who fought in the war. But Luo did not know if any commemorative event would be held around this October.
In March, Luo put forward a proposal to the annual Chinese People's Political Consultative Conference, China's top political advisory body, for a commemoration on Oct 25 to mark the 60th anniversary of China's involvement in the war.
Despite conflicting views about the conflict's origins, China's mainstream scholars said there should be no doubt China responded to defend its territory from US troops.
"We could not tolerate the flames of war burning at our own gates," said Huang Youfu, director of the Institute of Korean Studies at Beijing-based Central University for Nationalities.
"It was shortly after the arduous war of liberation when the nation was in desperate need of reconstruction," Huang said.
"We should pay tribute to the sacrifices of soldiers, who, despite being poorly equipped, won a peaceful environment for us to develop in."
Cheng Guangjin contributed to this story.