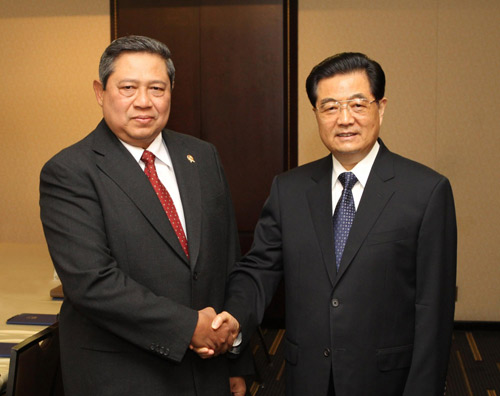 Chinese President Hu Jintao (R) shakes hands with Indonesian President Susilo Bambang Yudhoyono in Toronto, Canada, on June 26, 2010.  [Photo/Xinhua]
Toronto: On China's relations with ASEAN, Hu said China was ready to see a more united, stable and prosperous ASEAN and would continue to support its efforts towards integration and its leading role in East Asia cooperation, said Chinese President Hu Jintao.
Hu made the remarks as he met Indonesian President Susilo Bambang Yudhoyono Satruday on the sidelines of the Group of 20 (G20) Summit, which begins Saturday and focuses on ways to secure the global economic recovery and address the economic challenges and risks.
China would join hands with ASEAN in maintaining and building the China-ASEAN Free Trade Area (CAFTA), enhance the China-ASEAN cooperation in infrastructure and financial fields and expand humanitarian exchanges, Hu said.
Hu said China attached much importance to boosting strategic partnership with Indonesia, adding that relations had developed favorably this year.
The two sides signed an action plan for strategic partnership in the beginning of the year and the two also reached an important consensus on deepening defense cooperation.
The Chinese side proposed the two sides maintain high level exchanges, welcoming Susilo to visit China to attend the Shanghai World Expo and the expo between China and the Association of Southeast Asian Nations (ASEAN), Hu said.
China was also willing to enlarge investment in Indonesia and supported Chinese companies to take part in major projects of Indonesia's infrastructure building, he said.
Susilo said Indonesia sincerely hoped to strengthen cooperation with China to enhance the bilateral relations and safeguard the common interests of developing countries.
Indonesia was willing to maintain high-level contacts and welcomed Chinese enterprises to invest in infrastructure and tourism, he said.
Both China and ASEAN should guarantee the implementation of the CAFTA, Susilo said, adding that Indonesia hoped China could keep its important role in G20 to contribute to the Asian and global economic growth.
Relations between China and Indonesia have grown substantially since the two countries set up diplomatic ties 60 years ago.
In 2005, the two countries signed a joint declaration on the establishment of a strategic partnership.
In 2006, China and Indonesia launched a dialogue mechanism at the vice-premier level.
Trade cooperation between the two countries has also expanded in recent years.
In 2009, two-way trade was valued at 28.3 billion U.S. dollars. And in the first three months of this year, bilateral trade stood at 8.8 billion dollars, a 78 percent increase over the corresponding period of last year.
Xinhua contributed to the story