Relocating residents along the route of China's massive south-north water diversion project is proving no easy task.
As Beijing's prop-erty prices continue to soar, 28-year-old IT technician Fang Tiesuo is starting to consider his options. After living in the capital for six years, he and his wife can still only afford to rent an apartment in the densely populated Tiantongyuan area. "We're floating without a sense of belonging," he said.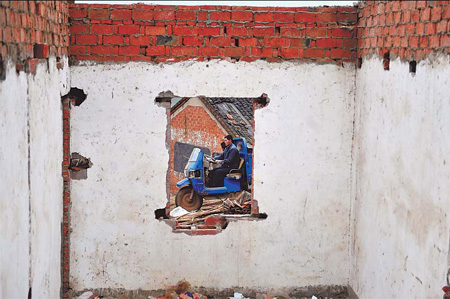 A man passes a partially demolished house in Hongjiagou village in Hubei province on his tricycle in early December. A total of 330,000 people in Hubei and Henan will be relocated before construction of the central route of the water diversion project. 
Many in his position are returning to their native villages in search of a simpler, more relaxed life. But for Fang, there is no going back. Home as he knew it in Duzhai, a village in Henan province's Xichuan county, will soon be gone forever.
The shabby house he grew up in, the river he bathed in and the roads he walked on will all be meters under water by winter as part of the colossal South-to-North Water Diversion (SNWD) project. His family will be among more than 2,900 people relocated to the neighboring city of Dengzhou by the end of August.
The largest of its kind in known history, the SNWD project includes three routes (central, eastern and western) and aims to channel 44.8 billion cubic meters of water from the Yangtze River to drought-prone North China annually, which officials say has only 19 percent of the country's water resources but 64 percent of its cultivated land.
Feasibility studies started in October 1952, only three years into the founding of the People's Republic of China, and have continued to this day (the fate of the project's controversial western route, where a core reservoir was expected to be built close to the epicenter of the Qinghai earthquake, is still unknown).
Daunting environmental concerns, post-relocation issues for millions of people and enormous costs are cited among the biggest headaches for authorities in this epic endeavor.
Long-term spending aside, the immediate cost alone is more than twice the investment in China's earlier and similarly controversial mega-project, the Three Gorges Dam. After another decade of slow development, the central government last December said investment in 2010 - 48 billion yuan ($7.03 billion) - will surpass the sum spent on the project over the past seven years.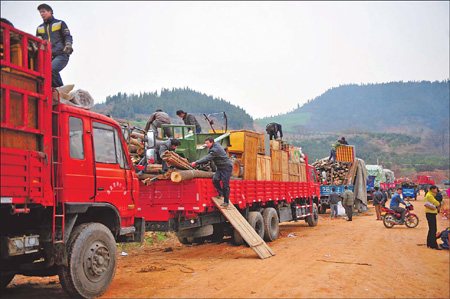 Residents of Hongjiagou village in Danjiangkou, a city in Hubei province, move to their new resettlement in Yicheng, some 300 km away, to make way for the central route of the massive South-to-North Water Diversion project. The villagers were the first to be moved as part of the relocation that started in August last year. Residents of Xichuan county will be moved by September. Hao Tongqian / Xinhua photos 
Vice-premier Li Keqiang, who has vowed to make the project water-efficient and environmentally friendly, also stressed that a good job on the resettlement of residents is essential, Xinhua News Agency reported.
The central route, which will raise the height of the Danjiangkou reservoir dam from 162 meters to 176.6 meters, requires the relocation of 330,000 people in Henan and Hubei provinces. Xichuan, a remote, mountainous region inaccessible by railway, is home to 162,000 would-be SNWD migrants, the most anywhere.
When the initial construction for a subsidiary dam of the project began in this agricultural county in 1959, the materials arrived on just 16 trucks, 100 wooden wagons and 10 boats, according to local author Mei Jie. Today, relocation is far more complex.
Here on the upper reaches of the Han River, a tributary of the Yangtze, about 80 percent of the 14.6 million people living in the watershed area are farmers, officially recognized as the country's "socially vulnerable" groups.
The average resident in Xichuan lives well below the national poverty line and, in places like Duzhai, where people have known they would one day be relocated - and for that reason never refurbished their old, worn-out houses - money is the top concern.
To help alleviate poverty during the relocation process, Henan authorities have devised compensation rules that favor the poorest.
Each resident, regardless of where his or her home is, will receive compensation from the county government for 24 square meters of property at a rate of 530 yuan ($77) per sq m. That means each person gets 12,720 yuan; no more, no less. The offer is a boon for those with less than 24 sq m of property, but it has proved far from popular with homeowners of larger rural houses, who will lose money on every square meter over that threshold.
For Fang Baoquan, Fang Tiesuo's father and a self-proclaimed "rich man" of the highly impoverished Duzhai village (his assets include no more than an obsolete two-bedroom house where the only electronic devices are a small television, two rice cookers, a clock and a light bulb), the compensation plan is unfair.
"The compensation plan is clearly in favor of the poor and those with larger families," said the 55-year-old. Fang Baoquan has just three people registered under his hukou (permanent residency), while the majority of other families have around five or six, meaning they will enjoy significantly more compensation. "The more people you have in your family, the more money you get; and the smaller your house, the higher your pay," he said.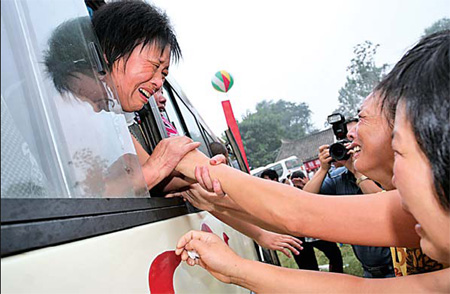 Displaced farmers burst into tears when saying goodbye to their relatives in Jijiaying village, Henan province, on Aug 16, 2009. Niu Shupei / For China Daily 
The 24-sq-m standard is already lower than China's average per capita rural housing, which is 31.6 sq m, according to the China Statistical Yearbook 2008.
Ma Junhong, chairman of the people's congress in Xianghua, the township that administers Duzhai, and commander-in-chief of local SNWD migrant affairs, insisted the policy will benefit "the vast majority".
"Those with a larger home will definitely have hard feelings but the policy simply can't be fair to everybody. Whether it's rational or not depends on where you sit," he told China Daily.
Opposition to the compensation policy has come from a lack of openness and transparency, argued Fang Keshu, former deputy head of Xianghua. In response, Ma admitted residents had not been well informed because of the enormous time pressure higher authorities placed on local cadres. Henan promised to relocate its SNWD migrants - all of them from Xichuan - by the end of next year, while Zhang Jiyao, chief of the State Council's SNWD Office, endorsed and promoted that ambition as a nationwide target on Dec 28 last year.
"Frankly, grassroots cadres have much to complain about. That goal basically means the completion time (for migration) has been cut by half with no additional manpower or spending whatsoever," said Ma.