Designer weaves ancient beauty into her dresses
Beijing - It looks like a typical Han Dynasty (206BC-AD220) scene - a circle of about 40 people in traditional robes (hanfu) playing a scholarly game, in which they take turns reciting or creating poems on the spot.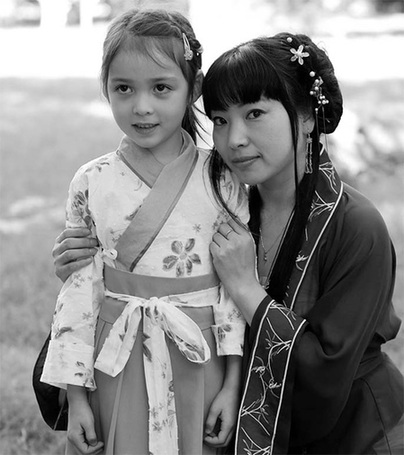 Li Yiman (right), who makes traditional Chinese hanfu dresses, poses with a girl also dressed in a hanfu outfit. [File photo]
But the setting of this tableau was not an imperial place of learning millennia ago, but rather, Beijing's Yuyuantan Park last Saturday.
Among those chanting prose was Li Yiman, a slender woman clad in a unique white gown adorned with a light-pink floral pattern. Li, 31, has become a regular at such gatherings over the past three years and does much more than dress the part.
She is also the founder of the hanfu brand Rumeng Nishang, a career that developed out of an obsession with all things ancient. The market for her clothing comes from a growing hanfu subculture that seeks to reconnect with tradition in the face of full-speed-ahead modernization. It is particularly popular with Chinese people born in the 1970s, just before reform and opening up began to transform the society.
A veneration of the ancient is the movement's mantra and hanfu is its uniform.
"People from all walks of life gather to share their love of ancient poetry, traditional culture and the Han lifestyle," Li said.
It is exactly because the hanfu garment designer is cut from the same cloth that she ended up following her career path.
After discovering several ancient poetry books in her grandmother's attic as a child, the native of Guizhou province developed an infatuation with dynastic prose that blossomed into a hobby of penning her own. She won relative acclaim after submitting some of her works to the online culture and literature club Da You, under the penname Yu Luo in 2002.
Another member invited the Beijing Institute of Fashion Technology student to her first "hanfu party".
Li recalls being dazzled by photographs of previous events.
"Seeing the people wearing gorgeous hanfu and striking poses like ancient people was so intriguing that I wanted to go and witness it for myself," she says.
The following day, the fashion design major rushed to the market to purchase a hanfu outfit but did not like anything she saw. So she decided to make her own - a choice that would tailor the fabric of her life in unexpected ways.
Her pink dress was a huge hit at the party. When other participants learned she had made it herself, they asked her to create garments for them too.
She started by making hanfu for her closest friends. But as more requests piled up, people started suggesting she open a shop.
"But I was hesitant," said Li, who had a well-paying position in a major fashion company.
"I would have to quit my job. Making hanfu isn't easy. People appreciate the style not only for its beautiful designs but also for its high quality of fabrics and tailoring."
Up to that point, she had handpicked the textiles she used.
"I didn't know how I could guarantee state-of-the-art outfits if I manufactured them on a large scale," she said.
It was Li's fianc's support that led her to make the leap.
"I believe it's fate," she said.
"We met at my first hanfu party and it was practically love at first sight. He told me it would be a pity for hanfu lovers if I didn't create my own designs."
In 2007, the couple started their e-shop, Rumeng Nishang. The company is named after a line from an ancient Chinese poem that literally translates as "dresses as beautifully as dreams".
The e-shop took off thanks to word of mouth and the brand sold about 3,000 garments in 2008 - an exceptionally high quantity for a hanfu retailer. She has continued designing the clothes and hired two tailors from her former employer to assemble them.
Rumeng Nishang has also brought on board several volunteer models. Among them is Wu Xuan, who wore one of the brand's outfits, which she purchased in 2007, during a celebration of China's National Day by Chinese students in Paris in 2008. The seven other models, including Cai Linyi, were also customers first.
"After seeing the stunning dress online, I went to try it on at the designer's studio," said the 21-year-old Cai, who joined the team last year when she was a student at Beijing Normal University.
"Li believes I'm good at interpreting the meaning of her designs and asked me to model for her. I hope to introduce the style to more people."
With more customers and models, such as Wu, wearing the brand abroad, the brand is receiving more overseas orders.
"I used to wear qipao (a type of Qing Dynasty clothing) to parties or formal events but now feel hanfu is a good alternative," Wu said.
Because of the increasing exposure outside of China, the e-shop has received orders from 22 countries and many foreigners living in China.
While Li has grown busier with her brand's success, she still finds time to pen prose. She posts her poems on Rumeng Nishang's website and names her masterpieces after her favorite lines.
"I really enjoy what I do. This is a job that allows me to both make a living and create a platform for sharing my interest in traditional culture," she said.