GUANGZHOU - Archaeologists made a breakthrough on Monday in their effort to salvage relics from the sunken merchant vessel Nan'ao No 1, when they reached the hold of the ship and began to retrieve items from the water off Shantou in East Guangdong province.
Sun Jian, director of the salvage team from the National Underwater Cultural Heritage Protection Center, said: "Our work is focusing on salvaging relics from the cabin of Nan'ao No 1, instead of cleaning the silt that covered the vessel and salvaging a small number of relics from outside the ship, as previously."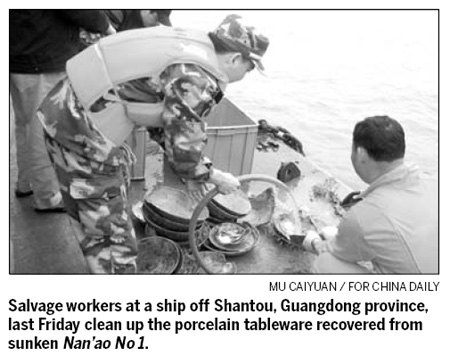 The salvage team gained access to the cabin on Monday after removing three boards from the middle of the vessel, which sank during the period of the late Ming Dynasty (1368-1644) in the South China Sea and now lies 27 meters under water.
To their surprise, they found many of the relics were still in good order, Sun said.
By Monday evening, more than 1,000 items had been recovered, including porcelain vases, plates, cups, bowls and other small dishes, as well as iron pots and copper plates.
Archaeologists have already established that most of the porcelain was produced in east Guangdong and south Fujian provinces, as well as in Jingdezhen, a prestigious porcelain producing town in Jiangxi province.
"We'll try to remove all the relics from the sunken vessel within 90 days," Sun said after a previous salvage operation on the ship had to be delayed due to bad weather.
According to archaeologists, the ship is estimated to have at least 10,000 relics, which will be of great value in the study of ancient porcelain production technologies, the country's ancient ocean trade and the ancient "Marine silk road" - China's southern passageway to the outside world.
Some archaeologists also suspect that Nan'ao No 1 may have been used to smuggle arms after copper guns and canons were discovered on the sunken ship.