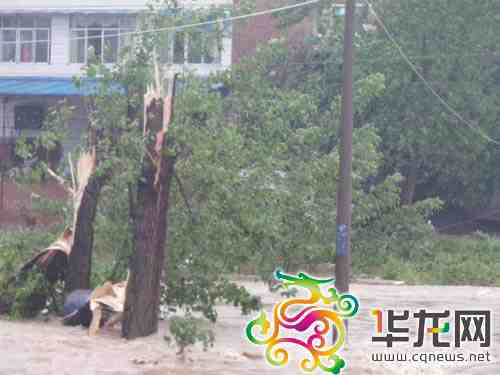 Two trees are broken by strong gale as torrential rain hit Shiling village, Guixi township in Chongqing municipality Thursday morning. [Photo/cqnews.net]
CHONGQING - The death toll of a disastrous weather featuring strong gale, even tornado, torrential rain and hailstorm, which plagued southwestern China's Chongqing from Wednesday night to Thursday morning, has risen to 26 at press time, according to the emergency office of the municipal government.
Another 161 people were injured in the extreme weather.
Liangping county was hit by a tornado and hailstorm at around 2:00 a.m., leaving six people dead and another 34 injured. Nineteen people died and 127 people were injured in Dianjiang county, according to preliminary statistics. One more death was reported in Fuling district.
In Dianjiang county, the heavy rain is continuing, which, together with strong gale, had toppled down 980 houses and damaged more than 10,000. Direct economic loss was estimated at more than 120 million yuan (17.6 million U.S. dollars), according to the county government.
Local meteorologists said that in the county seat precipitation topped 68 mm, while other townships in Dianjiang recorded averaged rainfall of more than 30 mm.
A total of 112 medical workers have been dispatched to the townships, and they have provided medical services for 83 injured people in the county.
More details about other areas of Chongqing are being collected.
The Chongqing municipal civil affairs bureau responded to the disaster swiftly and started relief work, sending 300 tents, 1,000 quilts and emergency lights to the counties.
The municipal health authorities have dispatched two teams of medical workers to Dianjiang and Liangping counties.