Foreigners are turning to Hong Kong as an HIV haven.
Unlike on the Chinese mainland where foreigners - or lao wai - still often attract stares, in Hong Kong they have become the unseen masses: Western businessmen rush between meetings in Central, Indian salesmen hawk suits on Nathan Road and Southeast Asian waitresses serve in Tsim Sha Tsui restaurants.
Yet behind this sea of faces lurks a disturbing statistic.
Although the number of foreigners who live and work in Hong Kong accounts for only 5 percent of its population, they make up one-third of the people infected with HIV or AIDS.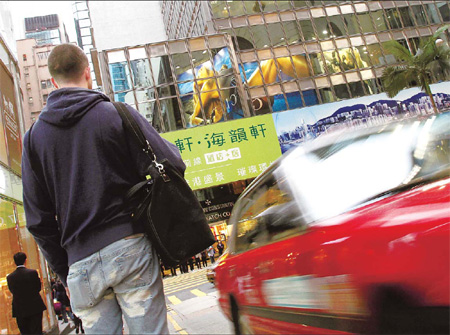 Vincent, 30, is an American who tested positive for HIV five years ago. He said he feels comfortable living in Hong Kong, where he moved to in 2008 after being forced to leave South Korea. [Edmond Tang/China Daily] 
Of the 4,443 cases of HIV/AIDS reported by the end of last year, 1,489 involved non-Chinese residents, according to the department of health of the special administrative region.
"This figure deserves our attention," said Elijah Fung, manager of St John's Cathedral HIV Education Center. "Government policies have been focusing on gay men and sex workers. Few care about this group (non-Chinese people)."
Fung's center, which opened in 1995, organizes regular talks and workshops in community shelters to promote AIDS awareness and prevention. In recent years, her staff has focused on migrant workers from across Asia, one of the groups most at risk of infection.
"They don't understand the risks," she said. "They know the basics, such as HIV can be transmitted by sexual contact. But if we ask further questions, like whether HIV can be transmitted by eating with someone, some of them just don't know."
Related readings:


 Ban removed on foreigners with HIV/AIDS
The international community has applauded the decision by the Chinese government to lift a two-decade-old travel ban on foreigners with HIV/AIDS, despite a recent survey showing a majority of the Chinese public does not support the decision.
Fung explained that religion can also be a barrier to prevention. "Some of the migrant workers are Catholic, such as from Thailand. Their religion is opposed to using condoms," she said.
"I had no idea about this disease (before I came to Hong Kong), not to mention prevention," said a Thai woman in her 30s, who refused to give her name. She tested positive for HIV shortly after arriving in the city in 2004. "I lost my job at a restaurant shortly after."
A spokesman for an HIV and AIDS self-help organization, who did not want to be identified, attributed the high proportion of infections among non-Chinese to the fact they were "far from home".
"People living in a foreign lands tend to engage in more high-risk behavior. It is common around the world," he said.
However, not all the foreigners with HIV were infected while in Hong Kong, stressed Barry Lee, senior project officer for the Hong Kong AIDS Foundation.
"Some foreign people come to Hong Kong especially for HIV testing, because the test and reporting systems here are anonymous," he explained. "Moreover, many countries deport foreigners once they are found to be HIV positive."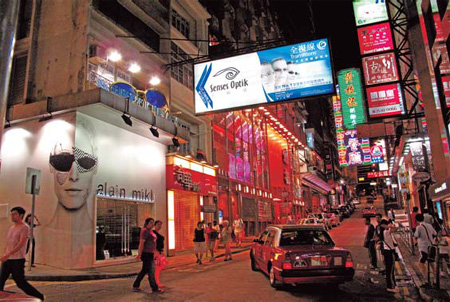 The corner of Lan Kwai Fong, a bar area near Central, Hong Kong, which features many high-end restaurants and pubs. The area is popular with Chinese and foreigners. [Xiao Die/for China Daily]