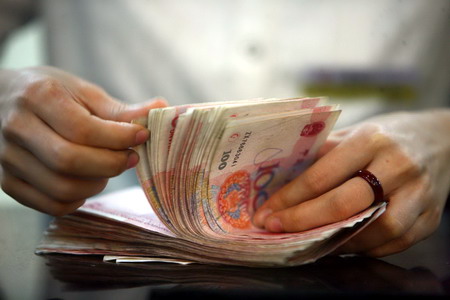 An employee counting banknotes at a Huaxia Bank branch. China's central bank on Sunday hiked the reserve requirement ratio by 50 basis points, effective from May 10. [China Daily]
BEIJING - China could raise interest rates after the release of the second-quarter economic data in mid-July, economists said, if statistics show inflation rising strongly despite Sunday's move to mop up liquidity.
The People's Bank of China, the central bank, hiked the reserve requirement ratio (RRR), or money commercial banks must keep as reserves, by 50 basis points, effective from May 10. It was the third such hike this year, with rural credit cooperatives and village and small township banks being exempt from the adjustment.
"The move aims to tighten liquidity," said Song Guoqing, senior economist with Peking University's National School of Development. "Liquidity pressure has been accumulating since the second half of last year," he said.
China's stunning 9.6 trillion yuan ($1.4 trillion) new yuan loans last year - in almost double that of 2008 - is believed to have not only turned around the country's economic growth momentum from the fallout of the global financial crisis, but also pushed up asset prices and consumer inflation.
The consumer price index (CPI), a main gauge of inflation, reached 2.2 percent in the first quarter of this year, compared with the 2.25 percent interest rate for benchmark one-year bank savings.
"Although CPI inflation remains modest on both year-on-year and sequential terms for now, producer and property prices have been increasing very quickly already and we believe it is just a matter of time before the CPI inflation rises to higher levels," Goldman Sachs economists said in a report.
Top research teams from Peking University and Tsinghua University forecast inflation could be well above 3 percent in the second quarter, effectively driving real interest rates into negative territory.
If that happens, interest rate hikes would be inevitable, possibly before mid-July, when the National Bureau of Statistics is scheduled to release the data, analysts said.
Related readings:


 China expects Q1 inflation rate between 2% to 2.5%


 Stocks fall on fears of rate hike

 Rate of inflation 'still low'
"If inflation continues to pick up fast despite the policy tightening, it would be likely the central bank raises the interest rates," said Xia Yeliang, deputy director of Peking University's Research Center for Foreign Economic Theory.
He said the RRR hike sends a signal that the authorities want to cool down the country's investment, which accounted for most of its 8.7 percent year-on-year gross domestic product growth last year. If investment growth could slow down to an acceptable level, an interest rate hike could be avoided. "It all depends on the second-quarter data."
Li Daokui, a Tsinghua University economist and member of the monetary policy committee of the central bank, said that the Chinese economy has shown some signs of "overheating" after it achieved 11.9 percent year-on-year growth in the first quarter.
"In this case, control of excess liquidity and economic overheating has become the paramount task," he was quoted by the Phoenix TV website as saying.
But policymakers have more tools at hand to rein in expanding liquidity and tame inflationary expectations, said Xia Bin, an economist at the State Council's Development Research Center. "We generally choose the one that is most effective and fastest in mopping up liquidity, which is the RRR hike at this stage," Xia said in late April.
But Xia admitted that when the real interest rates are negative, the central bank should move to raise interest rates.
"It should have long done that," said Song Guoqing of Peking University. "We continue to expect interest rate hikes, especially when the level of year-on-year CPI reaches above the 3-4 percent level for two months or more," said the Goldman Sachs report.