BEIJING - Reconstruction work began on Tuesday in earthquake-ravaged Yushu county in Northwest China's Qinghai province, while local authorities consider a major rebuilding plan for the county's core area - Gyegu town.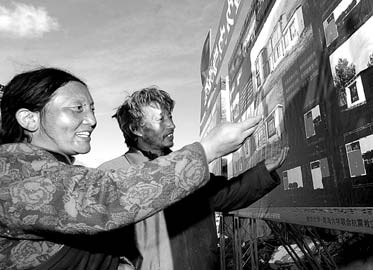 Ngog Tsomo (right) and Trinley Namdrol, both Tibetan residents of Trangu village, inspect the layout plan for the new village on Tuesday. Reconstruction began the same day. [Xinhua] 
On Tuesday morning, Qinghai governor Luo Huining declared the start of the reconstruction program at a foundation-laying ceremony held for the new neighborhoods to be built in Trangu and Ganda villages near Gyegu town.
Special coverage:

He said the restoration of the villages would be a pilot project for the entire reconstruction program of the quake region.
A 7.1 magnitude quake hit Yushu on April 14, leaving 2,200 dead and 17 missing. Both villages were almost completely razed to the ground.
For Gyegu town, local authorities drew up three rebuilding drafts, the Outlook Weekly, a periodical published by Xinhua News Agency, reported on Monday.
Gyegu suffered the highest casualty rate among all the towns struck by the quake in Yushu, according to the rescue headquarters.
While the rebuilding plan has yet to be finalized, an unnamed source said: "Rebuilding the town at another location is undoubtedly the best choice, if only geological conditions are taken into account."
Two of the drafts proposed relocating Gyegu to nearby areas. The third plan suggested the town be rebuilt at its original location, though unstable geological conditions in Gyegu cast doubt on proceeding with this course of action.
Li Yalin, director of the general office of the commercial department of Qinghai province, was quoted as saying that he preferred the town be relocated due to the enormity of the project.
According to the third plan, the majority of the buildings left standing after the quake would need to be demolished, in addition to clearing the remaining debris of those that collapsed, experts said.
The plan to rebuild on the original site may be more appropriate for small villages, as in the case of reconstructing Trangu and Ganda villages.
Before the ceremony, relief workers built a makeshift bridge and restored a rural road near Trangu village, according to the provincial traffic department.
Following reconstruction, living conditions in the villages will be improved compared to before the quake, Luo pledged.
The design of the new neighborhoods will be according to the principles of giving priority to people's livelihoods and conserving the ecological system, while respecting residents' religious beliefs and indigenous ethnic culture, Luo added.
CHINA DAILY