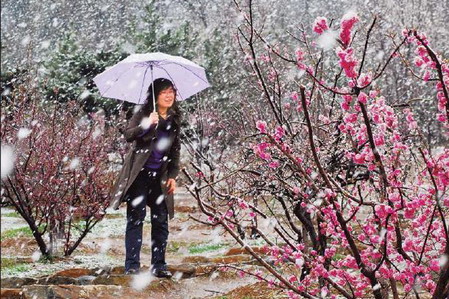 A woman enjoys flowers while snow falls in Yantai city of Shandong province on Wednesday. Aff ected by a strong cold front from the north, the temperature in the city dropped to about 0 C.[Chu Yang/China Daily] 
BEIJING - The country is experiencing its coldest April in nearly 50 years due to abnormal atmospheric circulation and a moving Arctic cold air mass, meteorological experts said on Wednesday.
Related readings:


 Weather bureau says this winter coldest in 10 years


 Bad weather dampens book fair


 Soybeans soar as inclement weather hurts production


 Good weather expected for Expo opening ceremonies
The average temperature across the country in April hit its lowest mark since 1961, reaching 8.7 C, about 1.3 C below usual, according to the latest figures from the China Meteorological Administration.
Most parts of Northeast and North China have experienced comparatively lower temperatures since November, about 1.8 C lower than usual, official figures shows.
"The cold air mass in the Arctic has moved southward and met the abnormal atmospheric circulation, causing its movement eastward and influencing weather in China," said Zhou Bing, a researcher at the forecast room with the National Climate Center.
Due to the influence of the cold front, the temperature in the middle and western parts of Inner Mongolia dropped at least 16 degrees, reaching minus 10 C, figures show.
The extremely cold weather caused frost in more than 10 provinces in northwest and north China with direct economic losses reaching 6 billion yuan ($882 million) and at least 13 million people have been affected, figures show.
The cold front also brought a dozen sandstorms to China, Zhou said.
From April 1 to 26, gales brought five sandstorms sweeping into Northwest China, killing at least three people.
The cold weather is not a regional phenomenon but is happening around the globe, spokesman Chen Zhenlin said at a press conference in Beijing on Wednesday.
In early April, snowstorms hit Britain, causing blackouts and several traffic deaths, and many countries such as the United States, Brazil and Indonesia have been hit by floods and rainstorms.
"All these extreme weather events show that the abnormal weather phenomena are increasing and are happening everywhere under the effects of global warming," Chen said.
The cold weather does not stop global warming, he added. It means people are facing increasingly extreme weather events.
Global warming refers to a long-term trend pushing up the world's average annual temperature by 0.74 C in the past century.
"The temperature in most parts of North China will return to normal, increasing about 15 C at most in early May, but it will go back and forth due to two other cold fronts," Chen said.