SHANGHAI - Pudong today evokes ready images of glistening skyscrapers, financial and futures markets, and shipping giants -- a global city for a globalized world.
But Zhao Qizheng still vividly remembers the time 20 years ago, when the country's financial center was a big patch of mostly barren land across the Huangpu River from The Bund.
Related readings:


 Shanghai-Taipei charter flights suggested during Expo


 Shanghai refutes Expo gift bag rumors


 Disneyland Shanghai prendra possession de son terrain en juillet


 Real estate market cools down in Shanghai on government moves
Talking about his part at the start of the Pudong project, Zhao said he is filled with emotion even after two decades.
The former chief administrator of Pudong told China Daily that he is proud of participating in the history-making effort to make the eastern part of Shanghai a shining example of Chinese enterprise and ambition.
The development of Pudong was a strategic move by former leader Deng Xiaoping as part of China's reform and opening up.
But many people doubted the project in its early days. Some even sneeringly referred to it as a Chinese version of Potemkin villages, purportedly fake settlements built by the 18th-century Russian general Grigory Potyomkin to impress the traveling monarch.
"Only Dr Henry Kissinger (former US secretary of state) said he believed the Chinese would make it work," Zhao recalled.
The scale of progress is, indeed, impressive. From 1990 to 2009, Pudong's GDP grew a miraculous 65 times, became a business base for some 600 international and Chinese financial institutions, and some 5,000 shipping and related companies.
By the end of 2009, Pudong had some 17,000 foreign-invested companies, with a total investment of $51 billion.
But it is not just money. Many social and political innovations were taking place at the same time, Zhao said. Pudong was also a pioneer in adapting to the global market, using international business laws and practices, matching economic growth with social progress, and preventing corruption.
The long-term significance is that Pudong has helped China raise its reform and opening up to a higher level, while Zhao himself, thanks to his painstaking effort to promote the area, earned the nickname "Mr Pudong" from investors.
In the process, Pudong has also helped China reposition itself much better in the age of globalization, he said.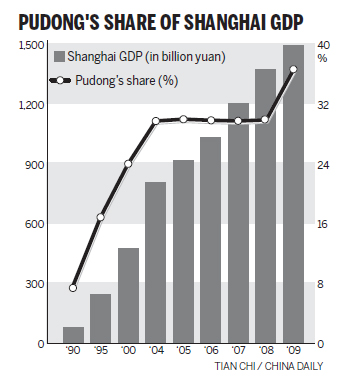 But the future is a challenge, and Zhao hopes Pudong (called "Greater Pudong" now after it merged with Nanhui district of Shanghai and more than doubled its land area) will attract more talents in business management and urban planning to expand its exemplary role for the rest of China.
Roping in talents is the key, Zhao said. "We have some, but far from enough."
Zhao's concern is shared by many development experts. According to Ma Hongman, a Shanghai-based economist, in the past 20 years, Pudong was competing with cities on the Chinese mainland. In the future, it will have to mainly compete with international cities, from Hong Kong to New York.
"This is a brand new task. Pudong really has to think, now that housing prices are already so high, how can it continue to attract large numbers of young professionals to come and work," Ma added.
Chen Gaohong, a Pudong official, also admitted that more companies reported increasing difficulties as a result of the global financial crisis. It is time, he said, for local public services to figure out how they can keep up Pudong's momentum when they can no longer help businesses by providing old policy incentives.