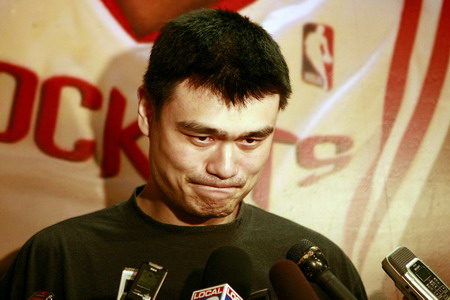 Houston Rockets star Yao Ming speaks to media after powerful earthquakes jolted Qinghai province, killing at least 589 people, in Houston April 14, 2010. [Xinhua]
HOUSTON: Houston Rockets star Yao Ming has set up a hotline to help North American Chinese residents reach family and friends in China following a series of earthquakes there.
Full Coverage:


Qinghai Earthquake
Related readings:


 Qinghai quake death toll rises to 589


 At least 56 students die in Qinghai earthquake


 Air China sends 3 planes to Qinghai for quake relief

 PLA called in to deliver relief aids to Qinghai
The latest series of quakes struck Wednesday in a remote, mountainous Tibetan region. At least 589 people have been killed and more than 10,000 are injured.
"I feel very sad for them," Yao said Wednesday, before the Rockets played their NBA season finale against New Orleans. "I wish the rest of the people there, the families, good treatment. In the future, we still need a lot of people to help. I am going to find out what I can do."
Yao, out this season after left foot surgery, created a foundation in June 2008, about a month after a massive earthquake struck the nearby Sichuan province, leaving nearly 90,000 people dead or missing.
The 7-foot-6 Chinese center, a seven-time NBA All Star, created his foundation with a $2 million donation to rebuild schools in the affected area.
Yao confirmed that his foundation would soon raise money for the latest earthquake, but he's not sure yet what role his foundation will play in the recovery effort.
"This happened now, so, we still don't know," Yao said. "Lot of questions. We have some experience now. Obviously, we can do better than last time."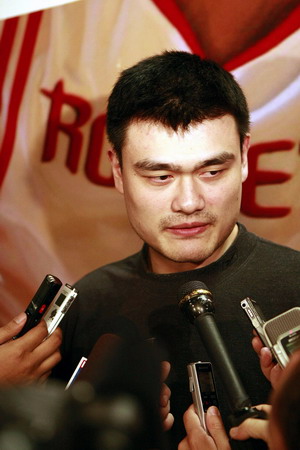 Houston Rockets star Yao Ming speaks to media after powerful earthquakes jolted Qinghai province, killing at least 589 people, in Houston April 14, 2010. [Xinhua]