Latest: The death toll has risen to 617 after a 7.1-magnitude earthquake hit northwest China's Qinghai Province early on Wednesday, rescuers said Thursday.
Beijing - At least 400 people were killed and 10,000 injured in the strongest earthquake to strike the country in nearly two years, jolting Qinghai province Wednesday morning.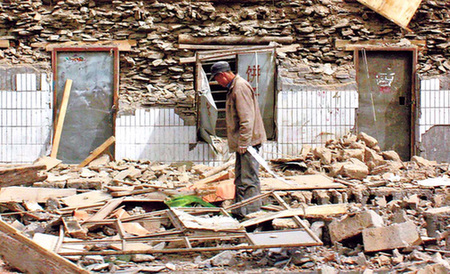 A man sifts through the debris of a collapsed building in Gyegu, Yushu, in Qinghai province on Wednesday after a 7.1 magnitude quake hit the region. [Xinhua] 
The number of casualties is rising.
Witnesses said the 7.1-magnitude earthquake, which struck at 7:49 am, left many people buried under the debris in hardest-hit Yushu, a remote Tibetan autonomous prefecture where the average elevation is around 4,000 meters above sea level.
The quake and a string of aftershocks, the biggest being 6.3 magnitude, toppled houses, temples, gas stations and electric poles, triggered landslides, damaged roads, cut power supplies and disrupted telecommunications. A reservoir also developed cracks, which workers are trying to patch.
Related readings:


 China Qinghai quake death toll rises to 589


 At least 56 students die in Qinghai earthquake


 Air China sends 3 planes to Qinghai for quake relief

 Central gov't allocates 29.3m USD for Qinghai quake relief

President Hu Jintao and Premier Wen Jiabao ordered local authorities to spare no effort in search and rescue operations, and in caring for the victims. Vice-Premier Hui Liangyu rushed to the quake-hit region on Wednesday evening to supervise rescue operations.
Many are trapped under the debris of collapsed houses in Gyegu town near the epicenter, said Huang Limin, deputy secretary-general of the prefecture government.
Gyegu, or Jiegu, is the seat of the Yushu prefecture government and has a population of 100,000.
Xiao Yuping, deputy chief of the Yushu education bureau, said a total of 56 students and five teachers were killed, with another 40 students trapped in the rubble.
He said a vocational school suffered most casualties, with 22 students killed, 20 of them girls.
He said half of the school buildings in the prefecture collapsed. But China National Radio quoted a local Red Cross official as saying 70 percent of schools had been destroyed.
Shi Huajie, chief of the armed police force unit in the prefecture, said in the absence of heavy equipment, most rescue workers were using their hands to sift through the rubble looking for survivors.
At least 30 people were buried under the debris of a three-story building at the Yushu Ethnicities Comprehensive School, and about 700 soldiers were struggling to clear the rubble and rescue those buried under it, a spokesman for the provincial emergency office said.
More than 5,000 additional rescuers, including soldiers and medical workers, have been dispatched to the quake-hit region, according to the Qinghai provincial government.
Authorities in the neighboring provinces of Gansu and Sichuan and the Tibet autonomous region have also sent rescue workers to Yushu.
"Our top priority is to save students," said Kang Zifu, an army officer in the rescue team in Gyegu.
The quake killed five people and injured one in Shiqu county, which neighbors Yushu, in the Tibetan autonomous prefecture of Garze in Sichuan province, local authorities said.
According to Nima, director of Qinghai's provincial Red Cross, 90 percent of local houses - typically mud-and-wood structures - had collapsed. The affected regions are in desperate need for tents, quilts, cotton clothes as well as food, she said.
The Civil Aviation Administration of China said operations were normal at Yushu airport, which opened last year and is some 30 km away from the epicenter, Rima village, about 50 km west of Gyegu.
Wu Yong, commander of the Yushu Military Command of the People's Liberation Army, earlier said roads leading to the airport had been damaged, hampering rescue efforts.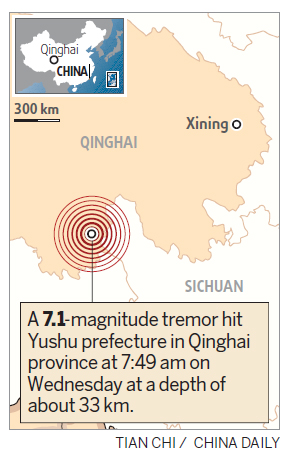 Jigme Usang, a 23-year-old Yushu native, who escaped unscathed with more than 900 teachers and students before the No 2 Ethnicities Middle School collapsed, told China Daily that he and the others had been woken up by an earlier earthquake that day.
"Had it not been for that earthquake, we would not have made it through the big one," he said.
The State Seismological Bureau said a 4.7-magnitude earthquake hit Yushu at 5:39 am.
Jigme, a charity worker, said survivors need "anything and everything to make it through the first few nights". Local forecasts say the evening temperatures in Yushu would fall below freezing between Wednesday and Friday, with showers expected in three counties on Saturday.
The provincial weather bureau has predicted snow and sleet in Yushu in the coming days.
Tharpa Tashi, director of Yushu's weather bureau, said residents were clad in winter clothes. The bureau estimated that the local temperature was -1.2 C when the tremor hit.
Apart from rescuers, about 500 monks from Sichuan trekked to Yushu on Wednesday to provide locals bottled water, instant noodles and dried food, said Jigme.
"We'll need plenty more aid," he said, adding that the fear of more aftershocks has forced many residents to seek refuge in the open.
"Our situation now is similar to what people in Sichuan went through," Jigme said, referring to the 8.0-magnitude earthquake on May 12, 2008 that left about 90,000 people, most of them in Sichuan, dead or missing.
Liu Chaoli, a volunteer at the rescue and relief headquarters, said all local electricity and gas supplies had been cut off.
Yushu, a quake-prone region, is some 800 km away from Xining, Qinghai's provincial capital, as well as the Aba Tibetan and Qiang autonomous prefecture, which was badly affected by the 2008 earthquake.
Although Yushu is a sparsely-populated region, experts said the quake is very likely to cause "heavy" casualties.
"The strong quake has a shallow depth (of 33 km) and the epicenter is close to the prefecture seat," said Sun Shihong, a research fellow with the China Earthquake Networks. "It is estimated there will be heavy casualties, as the quake occurred in the early morning and most of the residents were yet to get up," Sun said.
"In addition, according to the building structure and damage, a large number of people will be injured," he added.
Xinhua and Xie Yu contributed to this story.
China Daily