Many criticize the nation's emergency services for late response. But few know medics are over-stressed. He Na and Han Junhong report from Changchun.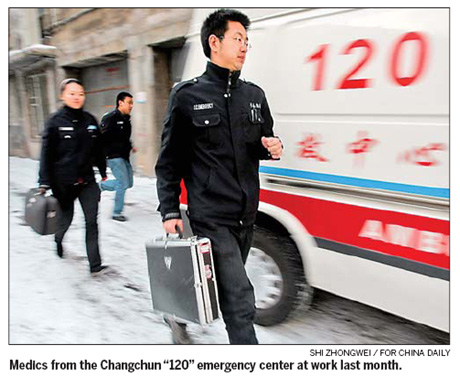 When Zhang Chunsheng, a former armed police officer, died in a Hangzhou hospital last year, doctors blamed a sudden brain hemorrhage. His furious wife pointed the finger at the slow response of ambulance paramedics.
Jiang Xinyang said a crew sent by "120" - the nation's medical emergency hotline - took 35 minutes to arrive at the family's home last October, and another 15 minutes to transport her husband "just 2 kilometers to the nearest hospital".
Zhang died 19 days later.
"My husband's death was a huge blow to the family," said the 44-year-old woman.
"I was so angry. I consulted experts and discovered the first hour is key to a patient's chances of surviving a brain hemorrhage," she said.
"It was the slow response by the emergency service that killed my husband."
In its defense, the Hangzhou Emergency Medical Center in Zhejiang province blamed the delay on heavy traffic. But Jiang dismissed this as an excuse and is attempting to sue the center for 810,000 yuan ($120,000) in compensation.
Jiang's story is one of many to make headlines in recent months, with staff at "120" centers across China often coming under attack for being slow, poorly trained and bad tempered.
However, experts warn that such heavy criticism has put even more pressure on the stressed, under-paid and under-resourced paramedics, and have urged authorities to invest more money and energy into improving the system.
One of the chief concerns among Chinese citizens is the response time of the 120 crews, with research suggesting many believe medics are not hitting their time targets.
Chen Ji, a 56-year-old Beijing resident with heart disease, was rushed to hospital four times last year. She said the response time of the ambulances ranged from 10 to 60 minutes.
On Feb 5, Chen suffered a heart attack.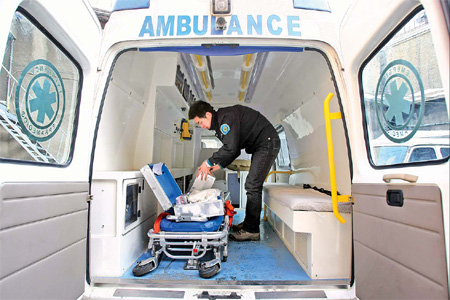 A paramedic with Changchun Emergency Medical Center prepares his first-aid suitcase between calls. Most 120 emergency centers suffer a shortage of vital resources, say experts. [Shi Zhongwei/for China Daily]
"When my relative called, they (120 center staff) said no ambulance was available, so I had to wait until they found one in Shijingshan (a western district of Beijing)," she said. "I was writhing in agony for an hour." A poll by Life Times, a medical journal, found more than 50 percent of respondents agreed ambulances should take no more than 10 minutes to arrive after an emergency call. However, services in just a handful of cities, including Beijing and Changchun, capital of Jilin, are meeting that target, say analysts, with medical response crews citing serious traffic congestion as the main cause of delays.
"Our command and dispatch system operates 24 hours a day and supervises each ambulance on the map, so to save time we send the one closest to the scene," said Liu Wei, director of Changchun Emergency Medical Center. "We generally reach patients within 15 minutes.
"With 300 new vehicles registered and hitting the city's roads every day, though, traffic jams have become a major headache for us."
Road blocks hold up at least 30 percent of emergency calls, he said. However, it not just the vast number of cars of China's roads that cause the problem, it is also drivers, many of whom make little or no effort to make way for emergency vehicles.
Although the Law on Traffic Safety requires drivers to move out of the way of emergency vehicles - ambulances, fire engines and police cars - several driving school students in Beijing said they have never been told of the regulations.
Almost 60 percent of drivers polled in a Life Times survey said they would not feel any need to allow room for an ambulance to pass on the road.
"I would slow down if I saw an ambulance behind me and let it pass, but I wouldn't stop or pull over to make way for it," a driver surnamed Li told China Daily. "I didn't know there was a law on it."