Commuters divided on subway security as China reacts to Moscow terror attack. Li Wenfang in Guangzhou, Qian Yanfeng in Shanghai and Cao Li in Beijing report.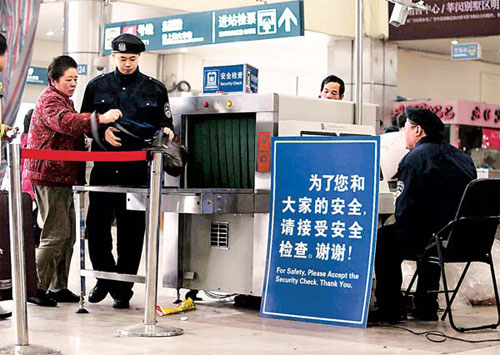 Passengers undergo security checks at the Xinzhuang subway station in Shanghai last month. [GAO ERQIANG / CHINA DAILY]
Chen, a cleaner at a subway station in northern Beijing, is under orders to check the waste bins every 15 minutes. She has been doing this since the Moscow terror bombings killed 40 people last week, and she is to report anything suspicious immediately.
"Security is tight now; much tighter than during the 2008 Beijing Olympics," said the migrant worker in her 40s, who has worked for Beijing Subway for three years. "In rush hours, we must constantly check all the corners and under stairwells."
Following the bloodshed in the Russian capital, Chinese subway authorities dramatically stepped up security operations at stations, particularly in Shanghai and Guangzhou, both of which will host major international events this year.
Along with the ubiquitous baggage scans at entrances, staff armed with handheld scanners and sniffer dogs are now common sights on platforms across the country.
But random checks at stations by China Daily reporters at the weekend discovered that many passengers are either intentionally or accidentally evading these security checks.
The metro system in Shanghai, the East China metropolis, will have 420 kilometers of track by the time the 2010 World Expo opens next month, making it one of the largest networks in the world. According to official estimates, up to 50 percent of the 70 million visitors expected for the expo will travel on the city's metro.
To combat any threat to safety, Shanghai Metro police chiefs have drafted about 20 anti-terrorism plans, as well as emergency action plans in the event of an attack. All 280 stations are already fitted with scanning machines, blast-proof buckets (that reduce damage when placed over explosives) and gas masks, said officials.
The city is "confident of hosting a safe and successful world expo" with the key being mobilization of people and careful implementation of plans, said Shanghai's Party chief Yu Zhengsheng in the wake of the suicide bombings in Russia.
Authorities in Guangzhou, capital of Guangdong province and host city for the 16th Asian Games in November, have also intensified security checks and rapid response drills. The city will have a 235-km metro network comprising eight lines and 148 stations when the Asiad opens, and is expected to handle an estimated 4 million passengers every day.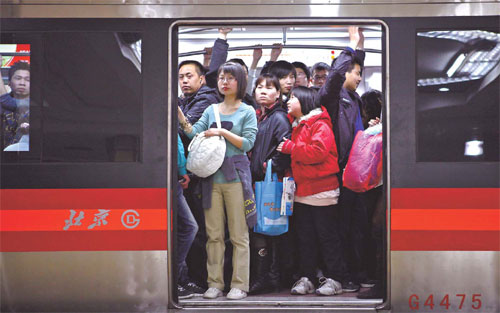 Passengers squeeze into the subway car at West Tian'anmen Station in Beijing. Subway authorities in large cities such as Beijing, Shanghai and Guangzhou have intensifi ed security checks since the Moscow bombings. [ZOU HONG / CHINA DAILY]

As part of anti-terrorism efforts, more than 6,000 copies of a 30-minute educational video about subway security have been distributed to more than 2,000 schools, 12 districts and counties, and 163 towns, said metro spokesman Ye Zichuan.
Many passengers, however, said they believe some of the security measures still need improvement.
The baggage scanning system used in all three cities drew the worst criticism from commuters, with the majority complaining that the staff hired to use the machines - mostly young people - often pay little attention to what appears on the screens in front of them. Stories of workers chatting instead of watching for illegal items are legion.
In Beijing, where scanners have been installed in subways since the Olympics, analysts fear that hundreds of people are potentially getting onto carriages with unchecked bags and packages every day.
A China Daily reporter at Qianmen - a station on Line 2 close to Tian'anmen Square that is usually crowded with tourists - saw at least five people with bags dodge the scanners within just five minutes last Thursday night. Administrators standing by the machines made no effort to stop any of them.
At Lama Temple (Yonghe Gong), another station close to a popular tourist destination, a young man carrying a large backpack breezed past the scanners, as did a middle-aged Chinese man carrying a bulging plastic bag at Huixin Xijie Nankou station.
"I didn't notice (the scanner)," said the older man. "I don't have a big bag, so probably my stuff doesn't need to be scanned."
Officials are attempting to address the loopholes. Zheng, a security worker at People's Square, Shanghai's busiest transfer station where three lines converge, said staff has been put on red alert since the Moscow bombings.
"We've been told not to chat when on duty and watch out for anything suspicious, such as unidentified bags, closed boxes and liquids," he said.
Shanghai police has also recruited thousands of retired and unemployed people to assist with security at metro stations from March until November, when the expo will close. Their major responsibility is to ask - and in some cases persuade - people to cooperate, while they are also charged with making sure no one sneaks over rail barriers.
"We've received very good training," said Lu Danping, 55, a security assistant at Hongqiao Station on Shanghai's Line 3. "We've learned how to spot explosives and how to deal with them if we discover them."