Judge offers youth a break and chance for a better future
BEIJING - When judge Li Qihong looks at the young faces standing before her, she sees much more than juvenile offenders - she sees the children inside.
"They are victims themselves," she said.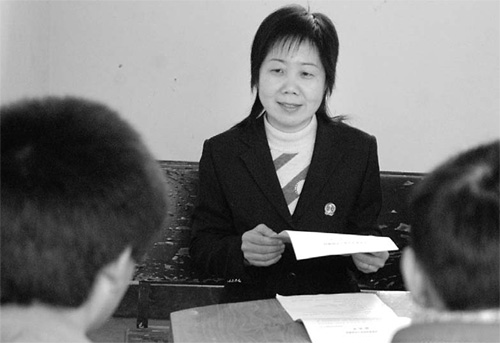 Li Qihong, a judge specializing in juvenile delinquency in Biyang county of Henan province, is seen at her work. [China Daily] 
Li has worked at the local court in Biyang county of Henan province for 23 years, and in that time has handled more than 800 cases involving juveniles and nearly 1,000 young suspects.
She is still reluctant to call them juvenile offenders.
"They sometimes get into trouble because of the special mindset during puberty. These psychological and physical conditions can make them commit crimes," she said. "And sometimes it's because of the negligence from families or schools."
Propelled by the belief that many of the youngsters are not malicious criminals, Li, 42, has committed herself to helping them "recover their dignity and return to a normal life".
Her approach is simple: Show them leniency and help them return to school or find jobs in the hope they become accepted by society and recover from their individual traumas.
Through her efforts, 369 young offenders have returned to school and completed secondary education, with a number of them graduating from college. Another 405 ex-criminals have become skilled workers.
In 1997, she handled a case of intentional injury committed by a high school student who got into a fight and hit a classmate with a cup, blinding his right eye.
The student, Liu, could have been sentenced for up to 10 years in prison. But after a detailed investigation, Li found the crime was committed impulsively, and not with malicious intent. Had Liu been put behind bars for many years, the life of a promising student could have been ruined.
Instead, Li was determined to show leniency to the boy and give him a second chance. First, she had to ease the anger of the victim's family. Liu's family was poor, his father was seriously ill and they were unable to come up with compensation.
She persuaded Liu's grandfather to ask for help from relatives and friends, who managed to collect enough money to pay the victim's family, who agreed to pardon Liu.
Despite opposition among her colleagues, she also granted Liu four years of probation.
After the trial, Li visited Liu's school eight times and persuaded school authorities to admit him again. Two years later, Liu successfully completed high school and was admitted to the law school of Henan University.
Li's life as a local judge continues to be full of pressure and challenges. She usually works beyond 10 pm, keeping to a schedule uncommon in her town. Working on weekends is also normal for her and the time she has for her family is brief. Her husband takes on some of the household chores and takes care of their daughter and his mother.
Her daughter also once complained that Li spent more time on other children than on her. Still, her daughter has chosen to follow her example and has enrolled in law school.
Li has won many awards and earned a reputation for her good work. She was also elected a deputy to the National People's Congress, the country's top legislature.
Yet despite the success and recognition, Li still loses sleep over her cases.
Last year, an ex-convict who was released accused her of pocketing a 500-yuan ($75) fine. She remained hurt by the accusation even after it was proven to be unfounded.
"He might have wanted to vilify me because I have become somewhat famous," she said.
Despite all the hardship and troubles she has met, Li said she still loves her career, which she had dreamed of in high school. "If I were given a second chance to choose my career, I would still make the same choice."