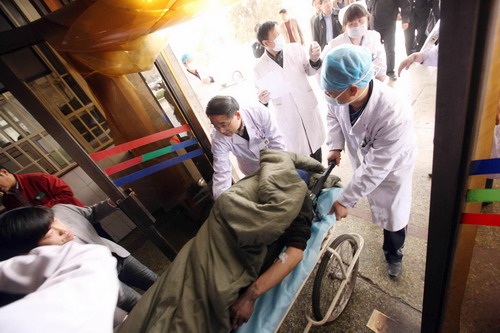 Hospital staff workers rush a survivor rescued from the flooded Wangjialing coal mine in north China's Shanxi Province into a hospital for medical treatment on Monday, April 5, 2010. [Photo/Xinhua]
Rescuers have taken out 115 miners alive from the flooded Wangjialing Coal Mine in north China's Shanxi Province by Monday afternoon, nine days after the accident occurred, the rescue headquarters said.
"Rescuers are continuing the search for 38 trapped miners. The rescue work is still challenging," said Liu Dezheng, spokesman of the headquarters.
"It is a miracle in China's mining rescue history," said Luo Lin, head of the State Administration of Work Safety, who is waiting at the pit entrance.
"Scientific methods and technology used in the rescue have ensured the miners rescued alive after being trapped underground for a week," said Shanxi Party chief Zhang Baoshun.
He said most of the survivors were brought out from a working platform, where rescuers had drilled a vertical hole last week. The hole has ensured oxygen in the flooded pit. Rescuers later sent down glucose to the trapped ones.
He said he has been informed that most of the survivors were in a stable condition, and could talk soberly.
Chen Yongsheng, a captain of the rescue team, said rescuers haven't reached two working platforms under the pit, where the remaining trapped workers may stay.
"The room under the flooded mining lane is small. The water surface was less than one meter below the top of the lane, where the survivors were found Monday morning," he said.
He said rescuers had used five-seat kayaks to bring out the trapped miners.
The rescue headquarters said they were continuing to pump the water out of the mine pit to reduce the water level.
"It is miracle. It is all worth of our efforts without sleep for several days," said Wei Fusheng, a white-hair rescuer, bursting into tears.
A team of medical experts organized by the Ministry of Health have arrived in Shanxi to aid the rescue work.
"I have two daughters and a son. I have to do mining work to earn money for them," said a 45-year-old survivor taken by the Shanxi Aluminium Plant Hospital, which has admitted 35 survivors from the mine on Monday.
The hospital is among five local hospitals taking survivors from the mine.
"How fantastic to be up on ground again," said a 27-year-old survivor.
He said he heard applause when he was lifted out by rescuers.
He shook hands with some survivors brought out by rescuers.
Rescuers entered the flooded Wangjialing coal mine Sunday evening to search for about 153 workers who had been trapped for a week, after the water level dropped.
Swaying lamp lights were seen from the V-shaped lane of the flooded north China mine Sunday evening, which led to the rescue of the first group of nine survivors.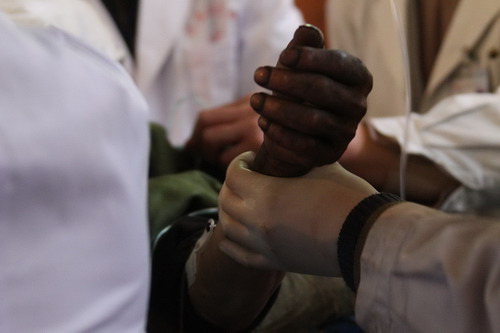 Doctors prepare to give medical treatment to a survivor rescued from the flooded Wangjialing coal mine in north China's Shanxi Province on Monday, April 5, 2010. [Photo/Xinhua]