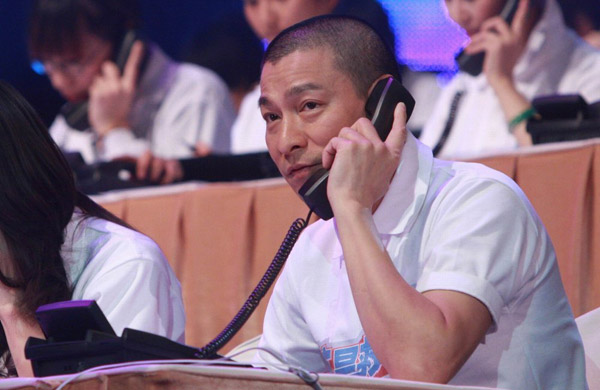 Hong Kong star Andy Lau (R, front) is seen answering the hotline phone for raising funds for drought-hit southwestern China during a star-studded television fundraiser on April 3, 2010. [Photo/CFP]
BEIJING - A star-studded television fundraiser raised money and goods totaling more than 270 million yuan (about US$39.6 million) Saturday evening for people in the drought-hit regions in southwestern China.
Related readings:


 Official: Drought situation grave for April


 Drought-hit China region lowers grain output target


 Guizhou strives to survive as drought worsens
The more-than-three-hour fundraiser featured entertainment stars from the Chinese mainland, Hong Kong as well as Taiwan, including kungfu star Jackie Chan and pop star Andy Lau.
The money and goods raised would be donated to those plagued by a severe drought which has left 19.4 million people with water shortages and affected 97.2 million mu (6.48 million hectares) of farmland in provinces of Yunnan, Guizhou and Sichuan as well as Guangxi Zhuang Autonomous Region and the city of Chongqing.
Chen Lei, deputy chief of the Office of State Flood Control and Drought Relief Headquarters (SFDH), said on Saturday that the southwestern China's drought would continue in April, and that "the situation was looking quite grave" as less rain and higher temperatures were expected in the drought-hit regions.