XIANGNING - Thirteen rescuers, including six divers, entered a flooded coal mine in north China's Shanxi Province Saturday to search for 153 workers that have been trapped for almost a week, but they returned with information not so optimistic.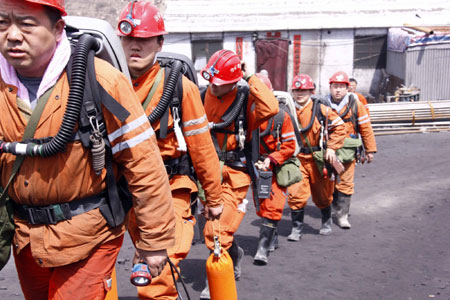 Rescuers prepare to enter the flooded Wangjialing Coal Mine in north China's Shanxi Province to search for 153 trapped miners, April 3, 2010. [Xinhua]
Meanwhile, no more signs of life were found after tapping on the drill pipe was heard Friday from underground.
Related readings:


 Rescuers send food, letters to trapped miners


 Knocks heard from flooded mine


 Sounds heard in flooded mine in N China


 Relatives hold hope of survival in flooded mine


 Rescuers race against time for trapped miners
The team of rescuers were sent down to explore the flooded shaft in the Wangjialing Coal Mine at 1 p.m. to prepare for a large scale operation, a spokesman with the rescue headquarters said.
The divers were carrying underwater cameras to film the environment in the shaft, he said.
But they all said the situation underground was "very complicated" and the water was "murky and deep" when they returned to the surface successively after 3 p.m.
"Under normal conditions, we can work for two hours underwater, but only about an hour in complicated situation with bad water quality," a diver told Xinhua.
"I could not go too far underground due to restrictions of equipment I brought," he said.
The spokesman with the rescue headquarters has said early Sunday morning was the soonest time when a large-scale rescue operation could be launched.
Rescuers sent down an explosion-proof telephone through the drill pipe to the pit Saturday noon, hoping to hear the voices of the trapped or other sings of life.
But no sounds were heard.
Rescuers have sent more than 360 bags of glucose, each 200 ml, down the 250-meter coal mine after hearing banging on the metal pipe Friday.
About 3,000 rescuers are racing the clock to pump water and reach the trapped miners.
The water level underground had dropped by 5.5 meters by Saturday noon after a total of 86,600 cubic meters of water had been pumped from the shaft.
Rescuers said the trapped miners were working on nine different platforms, and four platforms had not been totally submerged, making it possible that some workers could have survived.
The flooding happened at about 1:40 p.m. Sunday when underground water gushed into the pit of Wangjialing Coal Mine, which was under construction. Altogether 261 miners were working underground, and 108 were lifted safely to the surface.
Rescuers said the flooding took place when workers digging tunnels broke through into an old shaft filled with water.
The mine, which straddles Xiangning County, of Linfen City, and Hejin, a county-level city within Yuncheng City, covers about 180 square kilometers.
The mining zone was estimated to have more than 2.3 billion tonnes of coal reserves, including 1.04 billion tonnes of proven reserves, according to the company's official website.
The mine, affiliated to the state-owned Huajin Coking Coal Co. Ltd., is a major project approved by the provincial government. It is expected to produce 6 million tonnes of coal annually once in operation.
If the trapped workers cannot be saved, the accident will be China's worst mining disaster in more than two years. In August 2007, a total of 181 workers died at two flooded coal mines neighboring each other -- 172 at one mine -- in Xintai, eastern Shandong Province.