This problem is compounded for the center's receptionists, who are on the front line of foreign-language communication and have to memorize large amounts of information.
"I have to memorize all of the tourist guidelines in both Chinese and English," said recent graduate Xu Jiafei, who worked as an administrator for several months before applying.
"We're always role playing to familiarize ourselves with various situations. This is nerve wracking," she said.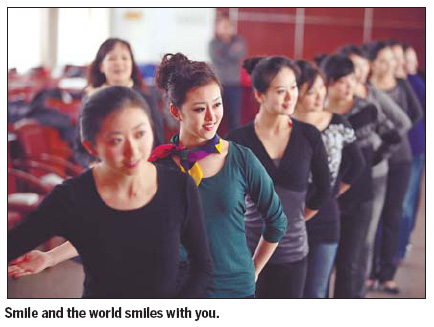 Organizers are placing a strong emphasis on appearance. The center has arranged special sessions for makeup and skin protection by inviting speakers from the official Expo cosmetics partner, Shiseido.
"Make-up helps build confidence," said training supervisor Yu Ye. "For eye shadow, we recommend they use a natural tone but for lips, it's really got to be bright red."
The trainees are banned from wearing accessories, polishing their nails and dying their hair.
"They're fairly strict," said Ren of the guidelines. "I was asked to dye my hair back to black before reporting for work."
Customer care is not just confined to the people working inside the center.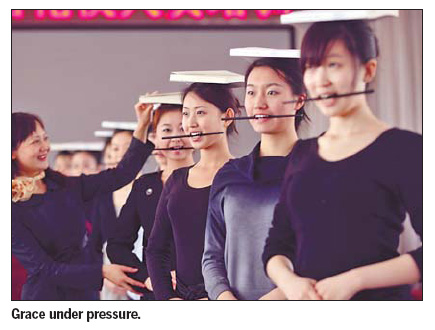 Outside, the 3,500 police officers who will be on duty during Expo have been asked to brush up on their social skills by attending a week-long course on dressing, etiquette, Expo knowledge and how to deal with accidents and emergencies.
A specially written guidebook specifies that officers are not allowed to eat pungent foods such as onions or garlic before their shifts. Some have to attend up to 20 training courses in seven days.
Tens of thousands of staff will work at the site during the 184-day Expo, which is expecting at least 70 million visitors. Training is ongoing. For some, it never ends; for others, it's the best antidote for disaster.
"We don't believe you can ever prepare too much," said Dai Jing, a customer relations coordinator at the center. "We want visitors to leave here with a new idea of what service really means."
Tang Zhihao contributed to this story.