Senior Beijinger makes recycling in neighborhood her personal mission
BEIJING - At half past six in the morning, while half of Beijing is still lingering in bed or enjoying a leisurely breakfast, Wang Fengqin, a 61-year-old Beijinger, rushes through her busiest hours in the day.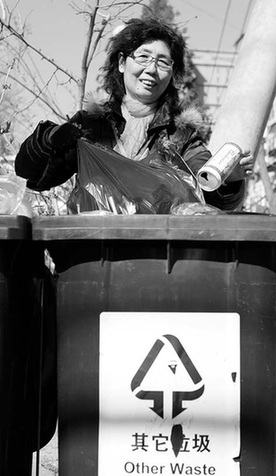 Wang Fengqin, a 61-year-old volunteer, helps classify garbage in the Zaoying Beili community of Chaoyang district, Beijing. [China Daily]
She gets up, gives her face a quick wash, swallows a breakfast served up by her husband and rushes to the four garbage bins beside the gate of the Zaoying Beili community in Beijing's Chaoyang district, where she checks the trash left by local residents to ensure it is classified correctly.
"Sorting garbage will improve the environment for all of us and it only takes a minute," Wang said.
"I want to help residents form good habits."
As Wang spoke, an old man came by and threw a plastic bag full of garbage into the bin marked "recyclable".
"Hey, please, there are some orange peels and fish bones in your bag, so they are supposed to be put into the bin marked 'kitchen waste'," Wang told him.
Learning the old man was in a hurry, Wang let him go, opened the bag herself, picked out the kitchen waste and threw it in the right bin.
While the early spring wind tosses her hair about, Wang takes off her gloves to adjust her tresses before continuing to sort the garbage.
Wang has been doing this every day from 7:30 am to 9 am and from 6 pm to 8 pm since March 10. She says those are the peak hours that people go downstairs and toss out garbage.
Most people had no idea about sorting garbage at first, but now 90 percent can put garbage in the correct bin, Wang says. However, she plans to keep doing this job until all residents in the community sort correctly.
"Wang distinguishes herself from other volunteers because she's very responsible," says an old lady in the community.
"While others stay away from the garbage, especially on a windy day, Wang opens the bags to check the classification."
Last October, the Zaoying Beili community where Wang lives started to recruit volunteers to help residents classify garbage. Wang took part and became the head of the first group of 30 volunteers, most of whom were retired senior citizens.
"At that time I didn't even know animal bones belong to kitchen waste, while all the children in my neighborhood knew that," Wang says, "but now I am a professional."
Before retiring, Wang's job was drawing blueprints for machines and she had only heard about "garbage sorting" from TV, having no idea what it meant.
Now she speaks like a dictionary: "All the garbage that rots belongs to kitchen waste, which should be handled separately. Trash like plastic bottles and glass bottles are recyclable, and all other trash including old clothes and paper can be disposed of the same way. "
From October last year to this March, Wang and her group went door by door in the community to teach residents how to classify garbage.
"Usually we start like this: Excuse me, I'm a volunteer in the community. I'm here to help you to sort garbage correctly so the community will be cleaner and more beautiful. Will you give me five minutes?" Wang says.
They have been frowned upon, if not outright condemned, many times. Some people even refuse to open the door. Still, they have managed to visit all 576 households.
"I believe in my ability to persuade them," Wang says, "and I know there will be some situations when I meet setbacks. I just have to continue."
According to Wang, while people are generally kind to her, sometimes they simply do not do the sorting.
"They promise kindly in the morning, then forget it at night," Wang says, but she is not angry with them. "Changing one's habits is difficult," she says.
Being so busy with her new career, Wang left the housework to her husband Wu Heping.
"Protecting the environment is a good thing and you won't achieve an overnight success in persuading everybody," Wu says. "So I support Wang, though I miss her cooking."
Since last October, Wu has been cooking three meals a day to make enough time for Wang.
Besides family support, Wang's determination comes from a deeper devotion to the community, rather than simply insisting on doing a "good thing".
In 1968, then 19-year-old Wang left Beijing, where she was born and grew up, to live and work in a production team in Daixian county, Shanxi province. She did not return until 2005.
But Wang's parents have both been paralyzed since 1986, with no children around to take care of them. In the 19 years before Wang came back, the neighbors in the Zaoying Beili community frequently came to help Wang's parents.
"I was so grateful that I decided to do something good to pay back the people in the community," Wang says.
Beijing citizens produce 18,000 tons of garbage every day, with that amount increasing 8 percent a year. In contrast, the total capacity of garbage disposal is 10,410 tons a day, which means 8,000 tons of garbage pile up in Beijing's outskirts every day, the Beijing News reported.
Moreover, according to statistics released by the Beijing municipal commission of city administration and environment, 94 percent of the garbage was disposed in landfills.
"If everyone classifies their garbage, we can recycle useful materials and reduce pollution," says Yang Ye, who works for the local government.
This year, 600 communities and 30 percent of Party and government offices in Beijing plan to launch pilot projects in garbage sorting. The Zaoying Beili community is one of them.
"We need more volunteers like Wang, who is passionate, influential and active in all kinds of activities," Yang says.
After watching over the garbage bins, Wang has other things to rush over - she is leading a community ballroom dancing club in the community, where she dances every two days. Also, she is a member of the model team of the community.
She says she "doesn't expect rewards" for her involvement in the community.
Last July, Wang was also chosen out of 300 candidates as a member of the senior citizen marchers of the National Day parade.
But she was initially not able to run long distances because she was weak at that time.
"You won't know how excited I was, I made up my mind to hold on," Wang says.
She later asked other marchers to help her along. After two and a half months of rehearsal, Wang could run by herself.
"At that moment, I decided to change my life, doing more meaningful things instead of being caught up in daily routines."