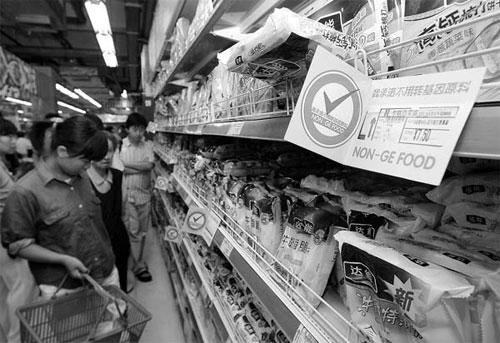 Shoppers browse the shelves at a supermarket in Shanghai, where bosses are using signs to assure customers that their produce does not include any genetically modifi ed ingredients. [GAO ERQIANG / CHINA DAILY]

A GM rice crop that repels pests without the need for chemical sprays would be many people's choice for an alternative, said Sun. However, there are still serious concerns over the safety of GM food, with debate continuing to rage over whether it is potentially dangerous to consumers.
"Rice is eaten by almost every single person in China, so people are particularly concerned about GM rice," said Xue Dayuan, chief biodiversity scientist at the Nanjing Institute of Environmental Sciences under the Ministry of Environmental Protection. "Risks also come from the potential genetic pollution."
Genes from GM rice could contaminate other species, potentially causing uncontrolled hybridization, which could put pure wild varieties at serious risk of extinction, he said. "We need precise regulation on GM crops before commercialization. I'm worried that we haven't set up an effective system to regulate the research and production of GM food."
Although agriculture officials are yet to approve the commercial cultivation of GM rice or the importation of GM grain, a report released by Greenpeace China on March 15 said GM rice is already on sale at Wal-Mart and Zhongbai stores in Hunan province.
The provincial government denied the claims, saying that no pest-resistant GM ingredients had been found in any of the 32 brands of rice being sold at the supermarkets. "Samples were taken from the Wal-Mart outlet in the capital Changsha, and several other stores and mills, but no GM ingredients were found after careful analysis by professional testing institutions," the authority said in a statement.
For retired farmer Mei, the biggest question is whether the genes that kill insects are also potentially hazardous to humans. "It seems like they're integrating pesticide into the rice, so doesn't that make it toxic?" he said. "Maybe the toxic element hasn't been found yet. I will only believe it is 100 percent safe after people have eaten it for several generations."
Related readings:


 Central China province refutes GM rice accusation


 GM-tech running agriculture to seed


 Debate: Is it proper for China to grow GM rice now?


 GM grain still 'long distance away'


 Caution on GM crops
When Chinese farmers began planting GM soybeans imported from the United States and yields went from 1,500 kg per hectare to 4,500 kg, Mei was initially amazed by this "magic" crop. "But nothing is perfect. GM technology seems too good to be true," he said. "The newspapers told us pesticides were perfectly safe at the very beginning but now everybody knows they aren't. Who knows what is going to happen with GM rice after five or 10 years."
Using pesticides and herbicides, Mei's farm grew about 150,000 kg of grain and generated about 375,000 yuan ($55,000) a year, a fair income in China's countryside.
"I believe Chinese farmers can provide enough grain for all of us. Why should we take the risk of using uncertain technology?" he said.
According to a spokesman for the National Key Laboratory of Crop Genetic Improvement at Huazhong Agricultural University, the BT protein only works on the rice stem borer, yellow rice borer, leaf roller and other lepidoptera pests, and poses no threat to humans as there is no "binding site" that triggers the protein in the human intestinal tract.
People have been using BT proteins as bio-pesticides for more than 70 years, with large-scale cultivation and application of BT crops has been going on for more than 10 years. There have been no reports of anaphylaxis, or extreme adverse reactions, the spokesman said.
Rats fed GM rice for eight days developed no biological differences from rats fed natural rice over the same duration, he said. According to local media, scientists at the laboratory have also eaten the GM rice they have been working on for years and have suffered no health problems.
"In the US, we have been consuming GM crops, corn, soybeans, for 15 years. There is no food safety problem from this proven technology," said Scott Rozelle, an agricultural expert and professor at Stanford University, California, who co-authored a 2005 article on the GM rice in China for Science, a top professional journal. "If one looks carefully at food safety issues (there are many and they are publicly available) there is zero - not one - that shows that there is any adverse health consequences or risk of health consequences from BT crops. So food safety is a plus for GM rice.
"In farming communities there is a preference for GM crops that reduce pesticides. As our studies in China show, GM crops hold potential for improving the environment, improving (farmers') health and improving water quality."