Pest-resistant crops will reduce farmers?reliance on chemicals, but fears remain over food safety. Peng Yining in Beijing reports.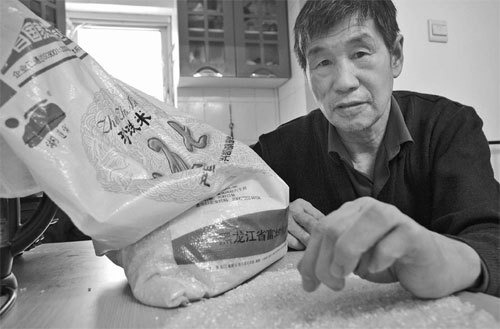 Mei Duanshi, a 61-year-old retired farmer from Heijongjiang province, spent more than three decades growing rice. He is wary about the safety of genetically modifi ed rice. [PENG YINING / CHINA DAILY
]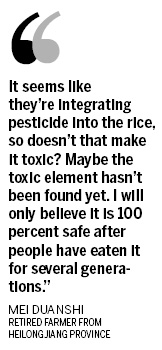 Mei Duanshi handles grains of rice as if they are precious diamonds. "Have you ever seen such good, quality rice before?" asked the 61-year-old farmer after pouring a small pile of Chinese-grown grains onto his kitchen table.
After spending more than three decades growing rice on 20 hectares of land in Hulin, Heilongjiang province, he knows quality when he sees it.
He also knows it comes at a cost.
"We sprayed our fields with pesticide twice a year, usually before and after we planted the seedlings in May," said Mei, who gave up his farm to live with his daughter last year.
"An airplane would shriek over our heads and dust the crops with about 30 liters of chemicals, giving the air a pungent odor."
In the cold northeast of China, where the biggest threat to rice crops is the leaf-mining fly - "they're tiny but deadly for plants" - farmers spray their fields far less often than those in the humid south, he said.
"My wife and I knew the chemicals were not good for our health but it was the only way to kill the pests."
Although he feels finding a way to reduce farmers' dependence on pesticides is paramount, Mei is still wary of the alternative: Genetically modified (GM) rice.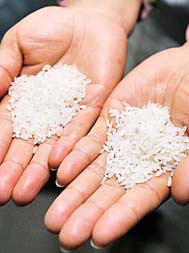 A scientist holds GM rice in his left hand and natural Heilongjiang rice in his right. [PROVIDED TO CHINA DAILY]
"My understanding is they impose the genes of one species onto another, which is a violation of the law of nature. I am not sure about that," he said when asked about the two varieties of GM rice that have been approved for field trials by the Ministry of Agriculture.
Mei's reaction is not uncommon. Although the crops - developed by Huazhong Agricultural University in Wuhan, Hubei province - have passed the government's safety tests and could dramatically reduce the use of pesticides, many people are still skeptical about the long-term effects of what some describe as "Frankenstein foods".
The GM rice cleared for trials last August -- Huahui 1 and Shanyou 63 -- contain a bacterium called bacillus thuringiensis (BT), which creates proteins that naturally repel insects, particularly the rice stem borer. Both strains will reduce the use of pesticide by 80 percent while raising yields by up to 8 percent, said Huang Dafang, a member of the biosafety committee affiliated to the ministry.
China already imports four kinds of GM crops - cotton, soybean, corn and canola - but if the homegrown GM rice goes on to be certified by the General Administration of Quality Supervision, Inspection and Quarantine, and the Ministry of Health, it will make the country the first to fully approve a GM staple.
More than 400 million tons of rice was grown across the world in 2008, with about 40 percent coming from China's 30 million hectares of rice fields, according to a National Rice Research Institution report last year. Almost half of the country's 1 million tons of exported rice went to Africa.
"Hundreds of millions of farmers make a living from rice. The health of each one of them is at risk from pesticide use," said Lu Ping, a researcher at China Agricultural University.
Last year, Lu and her team spent 40 days in a village in Sichuan, a major rice-growing province. They discovered that, from a population of 2,000, three farmers had died from diseases related to long-term exposure to pesticides in the last three years. "Most rice farmers underestimate just how toxic these chemicals and sprays are. They rarely wear any of the necessary protection, such as mask and gloves," she said.
One man was killed when he accidentally swallowed pesticide while trying to suck an obstruction out of a spray pipe, she recalled. "Another villager showered his cow with pesticide to kill lice but instead killed the cow. He then ate the dead animal. He survived but he had no idea he could have poisoned himself."
Sun Jing, director of the Pesticide Eco-alternative Center in Yunnan province, conducted similar studies since 2007. Her team has interviewed hundreds of farmers and found 20 percent regularly suffered dizziness or nose bleeds after using agricultural chemicals. "There's no doubt these chemicals, especially pesticides and herbicides, harm farmers' health," she said. "Reducing the use of pesticide and promoting alternative forms of pest control will be the future of farming."