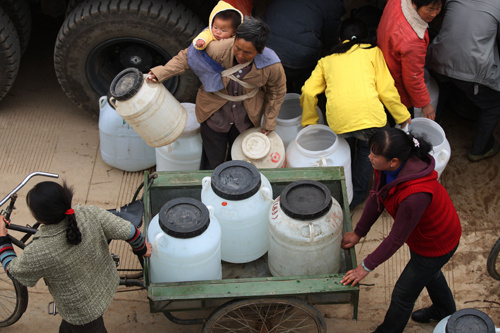 Residents of Tangjiacun village, Yunnan province, fill up their containers with water transported by the local armed police vehicles on Thursday. [Zhang Tao / China Daily]
When tankers arrive, countryside residents, desperate for water, swarm vehicles
TANGJIACUN, Yunnan: Dozens of villagers crowded along both sides of the road in Tangjiacun village on Thursday, waiting eagerly for the tankers delivering water to the drought-hit village.
Every two days, three water tankers have been delivering 45 tons of water to the village in Shilin Yi autonomous county in the east of Southwest China's Yunnan province.
Related readings:


 Drought affects 24 million people in Yunnan


 Drought may cause drug maker to replace ingredient


 China drought to test policymakers on inflation management


 Farmers fight for their lives amid drought


 Drought-stricken southwest China moves to curb food price hikes
In the past, more than 400 Tangjiacun villagers, together with 2,600 people in seven nearby villages, utilized water from a reservoir measuring 60,000 square meters. But the reservoir ran dry in February due to the continuing drought.
As the water truck drove into the village, waiting villagers swarmed to the tanker, carrying large plastic buckets that can hold 50 kg of water. Honking the horn, the driver tried to disperse the villagers, but the swarms around the truck continued. The tanker slowly moved forward, and finally stopped.
When the water poured out from two pipes - one under the engine, and the other in the rear - the crowd burst into excitement. Everyone holding a bucket rushed forward, stretching to catch the stream. When one bucket was filled, another empty one quickly took its place to receive water.
Those waiting to get their water were loudly complaining while crowding around. People who were filling their buckets desperately tried to protect their bucket from being pulled down by someone else. But some buckets fell due to the crowd, and people were swearing and cursing.
Tang Shuxian, 56, didn't squeeze into the crowd, as she is lame in one leg and carried her 1-year old grandson on her back. She and her 58-year-old husband brought smaller buckets, each of which could be filled with 25 kg of water. Neither of them could carry the bigger 50-kg buckets.
As none of Tang's crops have survived the drought, she and her husband had no farm work to do. Her son and daughter-in-law had left the village to find a job in the city like most of the young people in the village.
Tang said they used to earn 10,000 yuan ($1,500) a year by growing grapes, but this year they only hoped to get enough drinking water.
"If it rains in May, we can grow some corn as a staple food," she said.
Tang finally decided to fight the crowds, and stretched her bucket to the stream, with a lot of people crammed at her back. Her grandson was scared and began crying. Tang tightly held onto her bucket, shaking her body to comfort the baby.
Half an hour later, the water ran out. Villagers left with their buckets. All the noise disappeared, and the village fell into silence, with only a few water drops on the parched road as a sign of what had happened.
"In Shilin county, the drinking water problem has been solved through water delivery," said Zhang Xuegang, local official of Shilin Yi autonomous county with a population of 240,000.
Starting Feb 10, the local government sent out 1,675 water tankers, including fire trucks, to deliver free water from reservoirs, which still have water, to remote villages.
In other parts of Yunnan province, however, lack of drinking water might still be a problem, according to local officials.
Officials in some poor areas might not be able to deliver water to every village, and some villages are located in remote parts of the mountain where water tankers can't drive.
Across the drought-hit southwestern provinces of Yunnan, Guizhou, Sichuan, Chongqing municipality and Guangxi Zhuang autonomous region, multitudes are desperately hunting for water by drilling deeper into the ground and carrying river water from as far as 7.5 km from their homes
Of the 61.3 million people living in the worst-hit areas, at least 23 million are facing drinking water shortages, Ministry of Civil Affairs officials said on Wednesday.