Beijing - The residents of about 1,190 households are fighting a decision by the local government in Hengshui, Hebei province, to relocate them, with many fearing that violent measures will be used to force them out of their homes.
Three residential areas near a lake were earmarked for demolition to make way for a square and a park, which the local government views as one of the most important projects for the city this year.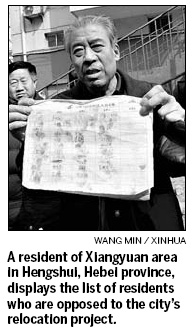 The Xiangyuan area, which is included in the plan, consists of 22 residential buildings constructed between 1999 and 2005.
"These buildings are only five to 10 years old. For us, they are our homes, which are in good condition," said local resident Jiang Zhichang. "We have enjoyed living here and do not understand why our homes should be destroyed."
A lot of residents have drawn up a petition of those who disagree with being ordered to move out of their homes and hundreds have signed their names to the document. They have also put up banners with the slogans "We strongly oppose our houses being torn down" and "No one should destroy our homes".
However, the local government does not seem to have been swayed by their protest. Instead, officials have emphasized that the renewal project is in the interests of the people.
Wang Zhengmin, director of the project, said it is necessary to build the park in the economically underdeveloped city, so that Hengshui people will have a better quality of life and because a city with a better infrastructure will attract more investment.
Hengshui is a city with about 5 billion yuan ($735 million) annual fiscal revenue and the construction project is forecast to cost 600 million yuan. "We plan to let investors build it with their money," said Wang. "The government will operate it once it is finished and return money to investors year by year."
Chen Gui, Party secretary of Hengshui, said he was "very pleased that construction work will be carried out on such a large scale" and that he looked forward to the project being completed as soon as possible, according to a report in the local newspaper Hengshui Daily.
"More effort must be attached to relocation. The buildings that need to be torn down must be torn down quickly," Chen was quoted as saying.
Zhang Junying, 60, who lives in the Zhichun area, said she is tired of relocation and that 110 out of 130 households in the area disagree with the plan.
"I moved into this building five years ago when the government wanted to tear down my house for renewal and we are now being asked to move again for another project. City planning keeps changing and disturbing our lives," Zhang said.
Others said they are also frightened by how violent forced relocations can become.
"We've heard a lot of stories about real estate developers employing gangsters to force relocation by cutting off people's electricity and water, as well as by blowing up the house. We are frightened such things will happen to us," said 70-year-old Xu Liange, who lives in the Xiangyuan area. "We feel we are not respected and we are living in fear."
Xinhua contributed to the story