Donations of water start pouring into severely-hit Southwest China
BEIJING - The severe drought in Southwest China has caused a drop in Yunnan province's electricity supply, as about 70 percent of the power in the province is from hydropower stations, media has reported.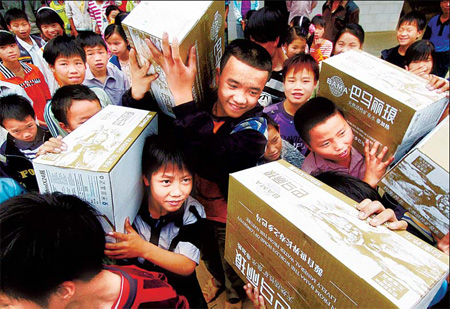 Students at a primary school in Hechi, Guangxi Zhuang autonomous region, carry boxes of bottled mineral water donated by a local company on Tuesday. [Li Bin / Xinhua]
The drought has also paralyzed 90 percent of hydropower stations in the neighboring Guangxi Zhuang autonomous region, the Guangzhou Daily reported on Tuesday.
The water level of the upper reaches of the Baise multipurpose dam in Guangxi has dropped to a historical low, and the supply to the middle and lower reaches of the Pearl River has been halted, the report said.
Related readings:


 Severe drought worsens in SW China


 Latest development of severe drought in China


 Joint efforts to ease drought


 Drought puts stop to sailing

"The normal water level should be at 228 meters and the dam paralyzes at a water level of 203 meters. Now the water level is even lower than 190 meters," the report quoted an unnamed dam worker as saying.
Officials at China Southern Power Grid, which takes care of the power supply for five provinces and autonomous regions, including Guangxi, Yunnan and Guizhou, admitted in a recent statement that it is an "arduous task" to ensure the supply in the region.
Due to its rich hydropower resources, Yunnan has been a major power supplier to neighboring Guangdong province. However, because of the drought, the amount of power supply diverted from Yunnan has been gradually reduced, and the province needs more power from outside the province, according to China Southern Power Grid.
The situation also caused a power shortage in Guangdong. The energy production by major heat-engine plants in Guangdong has increased by at least 50 percent over the same period last year, according to a report by National Business Daily.
If the situation continues, the price of thermal coal could go up, analysts said.
Since last autumn, Southwest China has received little rain and water storage is low.
The severe drought has affected 51 million Chinese and left more than 16 million people and 11 million livestock with water shortages, according to the State Disaster Relief Commission.
The drought has incurred 19.02 billion yuan ($2.79 billion) in direct economic losses, statistics from the commission showed.
In the wake of the rare drought, entrepreneurs, celebrities and netizens are donating water to those who are affected.
Chen Guangbiao, a famed Chinese philanthropist who runs a construction company, said on Tuesday that he will buy 3,000 tons of mineral water, which he will send to Yunnan, Guizhou, and Sichuan.
"I think it is time for everyone to take action. I will put forward a proposal to all the Chinese entrepreneurs: Let's buy more water for the affected," he said.
Chen donated 600 tons of water to the drought area in early March.
Officials at Nongfu Spring Water in Zhejiang province decided on Monday that they will donate 380,000 boxes of drinking water, worth 13 million yuan, to Yunnan. The water is expected to quench the thirst of 16 counties in Yunnan.
Yihua Group Ltd in Hubei province has also donated three million yuan to the drought area.
Some movie stars and artists including Zhang Guoli and Feng Xiaogang have also donated more than 1 million yuan through the China Red Cross.
The microblogger Du Zijian is also planning a charity performance online. His idea has attracted more than 1,000 people who will be a part of the performance, including many celebrities like actress Yao Chen and anchorwoman Zeng Zimuo.
China Foundation For Poverty Alleviation (CFPA), China's largest charitable organization specializing in helping the poor, is calling on all walks of society to help the drought-hit area.
Donating 200 yuan could help a household in the area purchase basic food for a month, or about 60 kg of rice and five liters of cooking oil.
The donation hotline of CFPA is010-62561633 or 010-82872688.