BEIJING - The US Treasury Department is highly likely to label China a currency manipulator in a report due out in mid-April, but the move will be "more symbolic than substantive" to win mid-term Congressional elections in the fall, former US trade representative Susan Schwab told China Daily on Tuesday.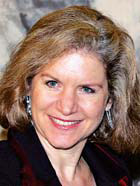 Susan Schwab is a former US trade representative 
"There is a high possibility, definitely (that China will be labeled as a manipulator), but it is very important to remember the decision is largely symbolic and does not force any actions, other than consultations," she said.
If that were the case, it will be the first time in 16 years. By declaring China a currency manipulator, the US could slap additional tariffs on imports from the country.
Some Chinese experts strongly doubt the US will do so as it will provoke Beijing and jeopardize its most important trade relationship, while others believe that even if China were declared a currency manipulator, Washington will not follow up with punitive measures.
Some Democrats and Republicans in the House have urged the Barack Obama administration to label China a currency manipulator. Lawmakers from both parties in the Senate also demand Washington force Beijing to revalue the yuan.
Schwab said "a significant growing number" of Democrats are increasingly pushing protectionist solutions, which she said was unfortunate.
"This is a very difficult decision (for the US government) to make. It is under a lot of pressure on the high unemployment rate and the coming election this fall."
Last week, China sent a team led by the vice-minister of commerce to the US, seeking consultations and negotiations on trade-related issues.
Related readings:


 Trade deficit likely in March


 Vice-minister to visit US on trade relations


 China's trade surplus with US misread


 China denies yuan behind US trade gap

But many do not pin much hope on such efforts. "There is little room and time to convince the US that China is not a currency manipulator," said Huo Jianguo, dean of the Trade Research Institute affiliated to the Ministry of Commerce.
"Obama would probably give the nod to the move if only to win over voters," he said.
The US' unemployment rate has been around 10 percent since the onset of the global financial crisis and is expected to stay at the same level in coming months. Obama vowed recently to create more jobs and double exports in five years.
As the mid-term election campaign looms, the Obama administration could "easily make China a scapegoat by blaming the country for their own problems," Huo said.
Schwab said the two countries should try to find a solution to the problems.
"The China-US relationship is arguably the most important bilateral one worldwide and it (the US) is in danger of shooting itself in the foot (by using protectionism)."
Huo agreed. "The US will have to take China's response into account," he said.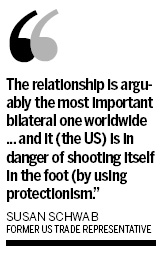 Minister of Commerce Chen Deming said on Sunday that China "would respond if this (the labeling threat) means litigation" under the framework of the World Trade Organization.
China's trade surplus, more than 70 percent of which is with the US, has been declining since October. Premier Wen Jiabao has said China will probably record a deficit of $8 billion in March.
China will make all efforts to import more from the US to balance trade, Wen said on Monday.
"The remarks may make the US reconsider its tough stance against China on the currency issue," said Huo.
It usually takes at least nine months for the WTO to draft a penalty report if the US filed appeal against China on the currency issue, and there have been few precedents.
Zhou Shijian, senior professor at the China-US Relations Research Center affiliated to Tsinghua University, also believes China will not be declared a currency manipulator.
"The US dare not challenge China by labeling it a manipulator. It will hurt both. It is also stupid of them to do so as China is a large consumer market," he said.