Key powers agree to cooperate on economy, technology and energy
Beijing - China and Russia signed 15 deals cumulatively worth $1.6 billion in the Russian city of Vladivostok over the weekend, with more coming up on Monday.
The documents were signed during Vice-President Xi Jinping's tour of the country. Xi arrived in Russia Saturday at the invitation of Russian Prime Minister Vladimir Putin. He is expected to meet Russian President Dmitry Medvedev and Putin in Moscow on Monday.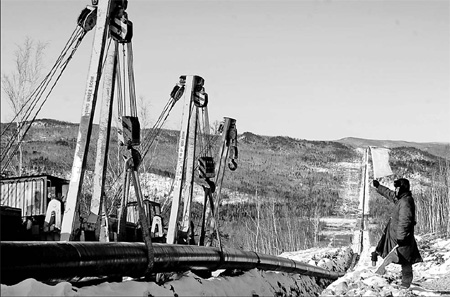 Workers brave the freezing cold to build the Russia-China oil pipeline linking Skovorodino and Daqing. [Zhao Jianzhong / Xinhua]
The deals to be signed Monday may involve cooperation in the energy sector, among other areas, experts said.
Beijing and Moscow may also discuss their respective positions on the Iran nuclear issue, and military cooperation, the experts said.
The two countries had previously agreed to operate a 1,030-kilometer-long pipeline linking Russia's Skovorodino city with Daqing, in northeastern China, by the end of this year.
The pipeline is expected to transport 15 million tons of crude oil annually from Russia to China between 2011 and 2030.
Related readings:


 China-Russia relations a top priority: FM


 China-Russia oil pipeline to be completed this year: FM


 Chinese, Russian officials discuss cooperation
The first batch of deals, signed by local governments and business communities on Saturday, involved cooperation in areas including the economy, technology, energy and infrastructure.
The settlement of border issues and the approval of a grand plan outline last year for cooperation between Russia's Far East and East Siberia and China's Northeast, had laid a political and legal basis for greater cooperation, Xi said on Saturday.
The outline reportedly covers a total of 205 projects to be finished before 2018.
"Now, the neighboring areas, and high-level officials of the two governments are all talking about the outline," said Jiang Yi, an expert on Russia studies at the Chinese Academy of Social Sciences.
"I'm sure Xi will discuss the details (with Russian leaders)."
One of the top priorities would be "developing energy cooperation with neighboring areas," Zhang Guobao, director of the National Energy Administration, who is part of Xi's entourage, told Xinhua News Agency in Vladivostok on Saturday.
Jiang said Xi may also discuss the Iran nuclear issue. So far, China and Russia have been the only two UN Security Council permanent member states that have not explicitly clarified whether they would push for sanctions against Tehran.
Combating terrorism in the neighborhood, the situation in Afghanistan, and the upcoming BRIC summit in Brazil may also figure in the discussions, he said.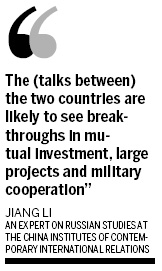 Jiang Li, an expert on Russian studies at the China Institutes of Contemporary International Relations, said, "the (talks between) the two countries are likely to see breakthroughs in mutual investment, large projects and military cooperation", especially against the backdrop of the transforming nature of their economies and a sharp drop in bilateral trade seen last year.
China is Russia's biggest trade partner. Their trade volume hit a record $58.8 billion in 2008.
However, it was dragged down by the global economic downturn last year, falling by nearly one-third.
In the first two months of 2010, the trade volume has grown by nearly 70 percent year-on-year and close to the pre-crisis levels, Vice-Commerce Minister Gao Hucheng, who is also accompanying Xi on the visit, said last Friday.
"More attention must be paid to the restructuring of trade cooperation between the two countries," Gao said.
Xi is scheduled to stay in Russia until Wednesday. The trip will later take him to Belarus, Finland and Sweden.