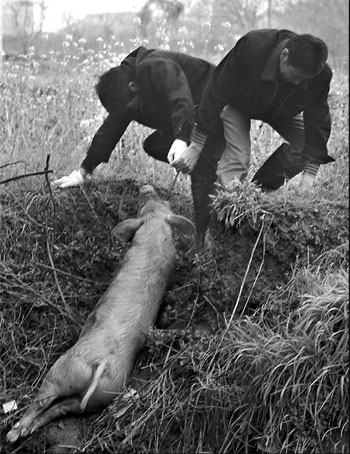 Two workers pull a dead pig into a pit to bury it in a field in Hangzhou, Zhejiang province, on Tuesday. More than 570 dead pigs have been found in the lower reaches of the Qiantang River. Bao Dunyuan / China Daily
SHANGHAI - The death of more than 570 pigs found in the estuary of the Qiantang River in Zhejiang province over the past week was not caused by any epidemic, the provincial agriculture department said on Friday.
"Those pigs were of different sizes and they died at different times," said Hong Jianwei, assistant director of Zhejiang's animal husbandry and veterinary bureau.
A large number of pig carcasses began to appear in the lower reaches of the Qiantang River since March 9. By Thursday, more than 570 dead pigs had been collected.
But there have been no reports of epidemics affecting live pigs, Hong said.
The provincial department of agriculture has sent a special task force to investigate the source of the dead pigs.
The authorities also sterilized the affected areas soon after the pig carcasses were collected from the river. The remains were buried in pits about five meters deep, said Huang Haizhen, whose company handled the cleanup.
At least eight boats were deployed to clean up the area and the number of staff involved in the operations also doubled to 120, Huang said.
The agricultural and stockbreeding departments at both the upper and lower reaches of the river are investigating where the carcasses came from, said Fu Xianhua, an official of the agricultural bureau of Hangzhou, the provincial capital.
The large number of carcasses may be linked to spring floods this year, Fu said.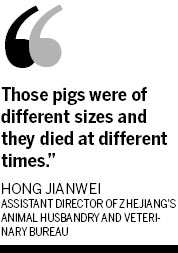 Pig carcasses that were buried in shallow pits could have been easily washed down from the upper reaches of the river because of the floods, Fu said.
Pig and poultry carcasses were also found in past years because a number of farmers often threw their dead livestock into waterways to dispose of them conveniently, raising the risk of animal epidemics, agricultural authorities said.
Qiantang River lies 1 kilometer away from a water plant in Xiaoshan district, and residents in the neighborhood have reportedly expressed worries about the quality of their drinking water.
But Hangzhou's drinking water supplies have not been contaminated, the local Today Morning Express quoted local authorities as saying.
As part of efforts to safeguard public health, local authorities said they also carry out regular checks and advise farmers to dispose of animals properly.
China Daily
(China Daily 03/20/2010 page4)