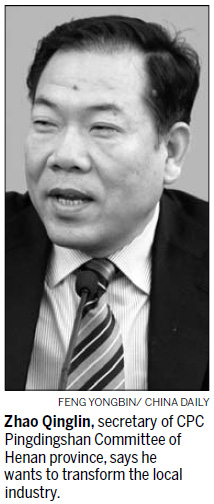 BEIJING: A "coal city" in Henan province that has enough coal reserves for another 100 years of mining is moving toward a low-carbon economy, said the top official in Pingdingshan city.
Zhao Qinglin, Party chief of Pingdingshan, said the city is introducing clean technologies and low-emission industries aims to cut carbon dioxide emissions per unit of GDP by 45 percent from 2005 levels by the year 2020, he said.
"A low-carbon economy, which essentially pursues sustainable development, offers a new path for resource-dependent cities that are seeking economic transformation," he said.
A study by the National Development and Reform Commission showed that 50 of China's 390 mining towns have had local resources dry up and struggle with serious social problems, 3 million miners have been laid off and the lives of 10 million people have been affected as a result.
Zhao said the city has been shifting its sole dependence on coal to a wider range of low-emission industries, and introduced new technologies to improve energy efficiency and cut emissions.
Industries that were once big energy consumers with heavy emissions are now taking the lead.
For example, Zhongping Energy Chemical Group, which is involved mainly in coal mining and processing, coal-to-chemical production and other chemical production, has now extended its portfolio to include environmentally friendly projects.
Last year the group, together with Henan Coalbed Methane Co., signed an agreement with the Australian company CFT to jointly develop coal-bed methane in Pingdingshan.
In the past, coal-bed methane has been released into the atmosphere - contributing to greenhouse gas emissions - because people viewed it as a hazardous gas requiring venting from coalmines to improve safety.
However, using CFT's technology and experience, the gas will be captured and converted into electricity, said Chen Jiansheng, president of Zhongping.
Total investment of the project amounted to around $1 billion, he said.
Four wells have already been drilled for feasibility studies. Plans for a power plant using the gas are also in the pipeline, a Zhongping executive told China Daily.
Development of the energy, which has similar components to natural gas, could help China reduce coalmine gas explosions and rely less on natural gas imports, said industry insiders, adding that China plans to increase its coal-bed methane production to 10 billion cubic meters.
Zhongping has also implemented measures to reuse the waste at one coking plant with annual capacity of 3 million tons, which can reduce greenhouse gas emissions by 170,000 tons and sulfur dioxide emission by 600 tons.
Party Chief Zhao said the city government will establish favorable policies to support other low-carbon pilot projects.