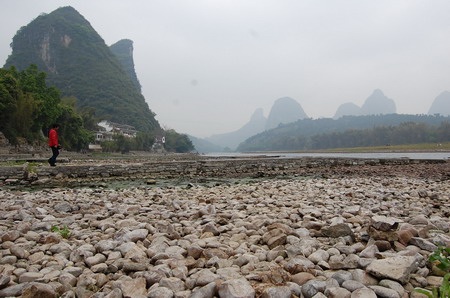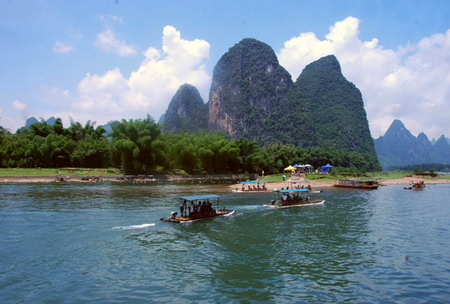 Two photos show how the famous Lijiang River scenic area in Guilin, the Guangxi Zhuang autonomous region, is now dried up.[LiuXianglong and Zhuge Baoman/For China Daily]
For More Photos>>
Severe drought in Southwest China to last until mid April: Forecast
KUNMING: It's been months since Li Shaorong and his wife have tasted soup.
They've been eating plain rice, pickles and a few slices of radish for every meal of the day.
Their house is dusty, and the towels have turned as hard as cardboard. They don't even remember the last time they had a bath.
Li's village of Shiyanzi in Xundian county of Southwest China's Yunnan province lies at the center of the worst drought to hit the region in a century.
The village has had no rain for the past six months.
"The horse beans and rape have withered in the field, and we're going to run out of grain soon," Li said.
The local government has been rationing water to each household in the village since January, but just a meager amount, enough to keep everyone alive.
Bathing, or for that matter even washing their faces, is out of the question.
"I use a few drops of water to rinse my eyes every other day," Li said, adding he had never seen such a situation in his entire life.
The Yunnan provincial climate center said the drought, which started in September, is the worst "in any living person's memory".
"The average precipitation is down by 60 percent, and the drought will persist until mid-May," said Zhu Yong, head of the center.
The National Meteorological Center (NMC) said the severe drought will continue in southern China's Yunnan, Guizhou and Sichuan provinces, the Guangxi Zhuang autonomous region and Chongqing municipality until mid-April.
The NMC extended the yellow alert, the third level for drought, in Southwest China on March 11, days after the national drought relief office raised the emergency alert to level one on Feb 24.
The drought has left nearly 8 million people short of drinking water in Yunnan, which has the country's third largest water resource.
It has wreaked havoc, cutting by half the harvests of fruits, tea, rubber, coffee, flower and other economic crops that are pivotal to the local economy.
As the major flower supplier, Yunnan provides about 80 percent of the fresh flowers across the country and the severe drought affected more than 80 percent of the flowers, causing a 50 percent reduction in flower supply year-on-year, the provincial flower supplying office predicted.
Many cities across the country have reported a nearly 100 percent rise in flower prices and a remarkable drop in supplies.
The dry spell since last August has affected about 2 million hectares of farmland, about 86 percent of the total in Yunnan, causing more than 13 billion yuan ($2 billion) in direct economic losses, according to the latest statistics from the provincial agriculture bureau.
Grain output will drop by over 50 percent and sugarcane output will be reduced by 20 percent, the local agriculture bureau predicted.