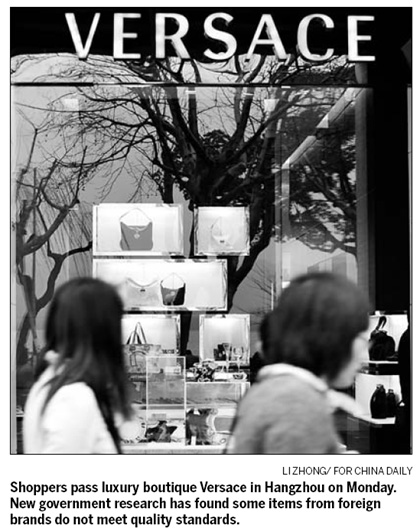 SHANGHAI: Clothes imported from some of the world top luxury brands, such as Hermes and Versace, have proven to be substandard in a routine quality control test, the Zhejiang administration for industry and commerce reported on Monday
The administration has ordered the clothes to be withdrawn from sale and for the retailers to be fined.
Related readings:


 Chinese consume 27.5% of world's luxury goods


 Luxury goods demand may peak by 2015


 Exposure to luxury can alter decision making: study


 China set to become top luxury market


 Luxury goods are a guilt-inducing indulgence: survey
The test found that 48 of the 85 batches of products examined were substandard, accounting for 60 percent of of the overall sample, according to the administration.
The substandard garments included those from the luxury brands Hermes, Versace, Dolce & Gabbana, Paul & Shark, Trussardi and Hugo Boss. The garments, which were manufactured in Italy, Morocco, Korea, France, Turkey, Vietnam and India before being imported into China, covered a range of attire, from jeans and T-shirts to sweaters, skirts and suits.
Defects in the manufacturing included poor color fastness, unacceptable amounts of acid and high levels of formaldehyde, which can cause skin rashes, eye irritations, allergies, respiratory problems and even cancer, the report warned.
Another fault uncovered by the test included improper labeling. In response to this claim, Cao Lei, a communication director with Hermes in China, said:"Zhejiang administration took the samples in December 2009 and we were informed of the results in January 2010. It is undeniable that we have made some mistakes in labeling and we have started to correct all of the labels on the mainland, which will be finished by the end of March."
Dolce & Gabana, Paul & Shark and Trussardi said they have just been informed of the results and declined to comment at this time.
Shen Yan, an official with the administration of industry and commerce in Zhejiang, said:"We have collected samples from most of the department stores and boutiques in Hangzhou, Ningbo and Taizhou."
Accordoing to Shen, the retailers, who are required to withdraw the products, will be fined under the Product Quality Law, but the company owners will not be penalized because they are not registered in China.
This is the second time luxury brands were found to be substandard in Zhejiang. Shoe manufacturers Hugo Boss and Dolce & Gabana were discovered to be selling substandard shoes in another quality control test in January 2006.