Beijing - The country will revamp its higher education system to divest it from the grip of red tape, granting colleges more autonomy, education authorities said on Friday.
But university leaders worried that once they are stripped of their administrative titles, they could face new problems.
Related readings:


 Fake papers are rife at universities


 Universities coveting alumni money


 Universities need to win students' trust


 Vice President stresses party building in universities
The new draft guidelines for education reform, which is now soliciting public opinion, plans to "modernize" the higher education system.
"Moves will include giving colleges more autonomy in aspects such as teaching, scientific research, enrollment and international exchanges," Sun Xiaobing, director of the policy and regulation department in the Ministry of Education, said.
Professors will also be given an important position in teaching and academic decisions, he said.
The reform is hailed by many who are dissatisfied with the current situation in which many college affairs are in the hands of governments.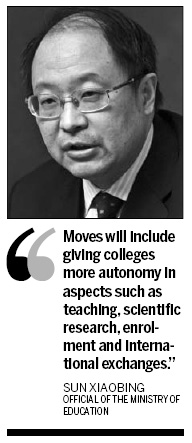 Currently, decisions concerning matters from enrollment to scientific research, all need to get approval from the education administration, insiders said.
"But college management should differ from that of a local government. Professors and students should have a major say in matters," said Rao Zihe, principal of Nankai University.
In the draft guidelines, college boards will be established as a way to involve all parts in the decision-making, Sun Xiaobing said.
At least 200 colleges across the country have set up such college boards as a trial, the guideline draft team said in a document.
Ji Baocheng, principal of Renmin University of China, said: "It's correct for the government to give autonomy back to colleges."
But in China, a government-oriented society, stripping college leaders of their administrative rankings could cause new problems for them, some worry.
Now at the vice-minister level, Ji said he could speak easily to officials like the mayor of Beijing. "But I definitely cannot do so if the administrative ranking is divested," he said. A new system should be designed to allow colleges to better communicate with the outside world, he added.
The country is also planning to revamp its university admissions system. Measures besides the annual college entrance exam will be introduced to ease the stress millions of students undergo as they compete for the coveted few spots.
Currently, access to university is entirely dependent on the score students get on a two-day test on a wide range of subjects. More than 10.2 million students take the exam each year, and only about 25 percent of them get in. "Entrance exam test results are important, but it shouldn't be the only factor dictating college admissions," Sun Xiaobing said.
Test results should be paired with student interviews and evaluation of the student's high school performance as part of an overall university admissions criteria in the future, he said.
Investment in education is one of the government's top priorities in 2010, Premier Wen Jiabao said last week.
A draft budget report called for education spending to increase by 9 percent to 215.99 billion yuan ($32 billion) in 2010 from 198.1 billion yuan in 2009.
AP contributed to the story