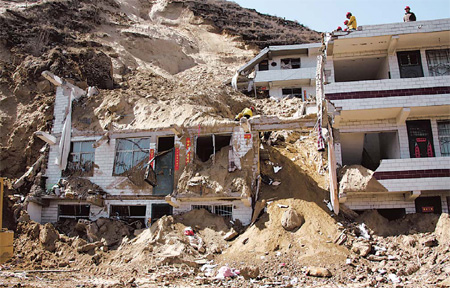 Eighteen people are missing after a landslide crushed 15 houses in Shuanghuyu village, Yulin, Shaanxi province, early Wednesday.[Huashang.com/For China Daily] 
ZIZHOU, Shaanxi Province - The death toll of a landslide in northwest China's Shaanxi has risen to 23 Thursday with 5 others missing, local government said.
The 90,000 cubic meter landslide occurred at 1:30 a.m. Wednesday, crushing 25 houses and burying 44 people in Shuanghuyu Village .
Ten people with slight injuries were taken to hospital, while six others escaped uninjured.
Rescue work is continuing for the five missing people while their relatives are waiting anxiously at the site.